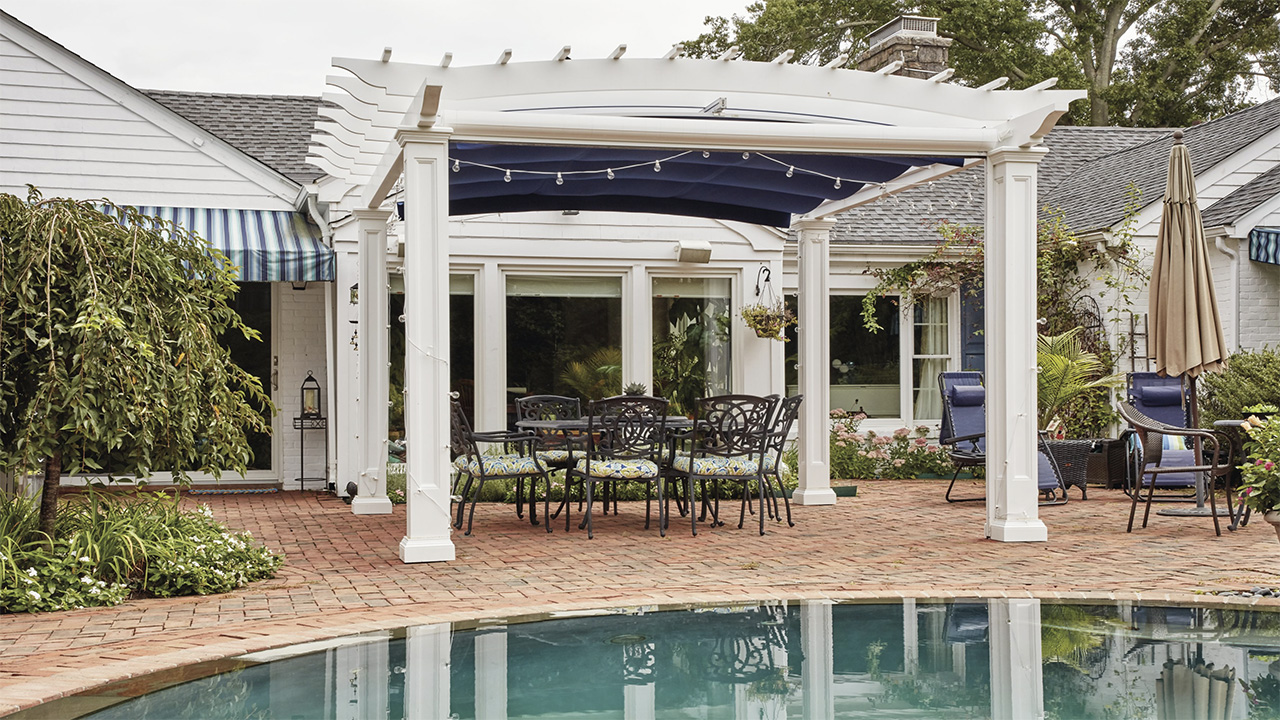 Spring Projects Make for Perfect Summer Days by the Pool
---
Fabulous swimming pool? Check. Adjacent patio? Check. Cozy fire pit? Check. Pergola for offering shade, shelter and pool-side privacy? If you have been considering installing a pergola or perhaps new privacy fencing, this year may be the year to do it.
No doubt sunshine and swimming pools are a natural hallmark of summer months.
Surrounded by handsome patios, sun-drenched decks, and lush landscaping, swimming pools across the country will supply more "staycation" enjoyment this summer than ever before. Invite swimmers and sunbathers to your personal poolside retreat this summer by creating a swoon-worthy swimming hole designed with entertaining and relaxation in mind.
More than ever, people are planning a summer spent right at home. And for many, that means making the most of their outdoor spaces. If you are a pool owner, then you already know that the pool area is quite often the focus of much of your summertime outdoor activity. And for good reason. When considering what spring project to tackle this year, upgrading the pool area is a great place to start. Increase your poolside potential by installing a new vinyl pergola, custom AZEK fencing, or a new pool gate to create a truly spectacular backyard escape.
Have It Made In The Shade
With some thoughtful planning, creating an outdoor oasis to entertain friends and family can be easily accomplished with the addition of a vinyl pergola. Pergolas provide a sheltered area for grilling, dining, or reading poolside. And if you're lucky enough to own a pool, chances are that you'll want a shady spot to relax in post-dip.
Softening the transition between your home and outdoor space, a vinyl pergola can be installed over a patio, deck, or alongside your pool for the perfect blend of beauty and function. Your pergola's placement can easily help to delineate various zones, like for eating and entertaining, or designate cozy seating areas throughout your yard.
Adding a vinyl pergola can help you make the most of your outdoor space, no matter the size or scale. In larger spaces, adding a pergola can help you easily define sections of your yard, designating dining and entertaining areas. With a small space, a pergola can create a sense of luxury and intentionality—so that when you entertain outdoors, you're doing so with a purpose. From traditional to magnificent multi-columned custom radius poolside pergolas, Walpole can create a unique pergola that suits your location and sense of style. 
Enhance your poolside pergola's structure with hanging baskets, custom planters, or elegant light fixtures to transform your deck into a dreamy outdoor living space. For a simple lighting solution, you can create a sense of ambiance by stringing outdoor holiday decorative lights from the pergola and watch them twinkle from above or by adding a hanging pendant over your seating area to enjoy al fresco dining after dark. If you select a Walpole Outdoors custom pergola, you can work with your designer to have it crafted and installed with integrated writing and lighting for absolutely ideal illumination. Flowering vines like morning glories or wisteria climbing up and along your pergola offer both enhanced privacy and shade. Line the pergola's perimeter with a series of container gardens spilling with bright blooms to soften the deck, making it even more inviting.
Create a Linger-Worthy Space with a Beautiful Custom Fence
Your backyard and pool area should serve as your own personal outdoor oasis. A lack of privacy can certainly throw off the whole vibe. The addition of a custom privacy fence is a simple strategy for buffering noise and creating a secluded outdoor retreat.
A pool fence plays an integral role in the grand swimming pool scheme. While the landscaping, lighting, and various design implements come together to create the mood and experience, it is ultimately the swimming pool fence that contains and shelters it all.
And, we all know the saying, good fences make good neighbors. But great fences make your yard truly memorable. Fencing is much more than merely a functional perimeter. Many go to painstaking lengths to design a fence truly worthy of what lies within its perimeters.
Fortunately, AZEK fencing has taken great strides in both form and function, making it possible (and easy) for you to create a linger-worthy space that remains beautiful year after year. 
With the ability to select designer colors (with a 25-year paint guaranty), fence caps, or custom gates, fully customizable AZEK fencing creates structure for your backyard retreat. A beautiful and style-savvy pool fence can put the finishing touch on the picturesque scene you've dreamed of, affording both privacy and safety in a seemingly effortless manner.
Lattice fences go beautifully around pool areas and they can be paired with custom pool gates that perfectly complement their style and welcome guests to go for a swim. Combining practicality with enduring charm, a custom vinyl picket fence blends effortlessly with the architectural style of so many homes. Alternatively, try a fence without pickets for a pool enclosure with an unobstructed view, like this custom Walpole fence. AZEK fencing can house special custom glass or mesh panels to provide safety, security, and a wind barrier for lounging poolside, without skimping on sophistication.
Many homeowners are faced with challenges when selecting pool gates that match their style while meeting the stringent code requirements. Walpole offers a range of pool gates, like this custom contemporary wood and wire gate handcrafted in decay resistant Western Red Cedar outfitted in code-compliant hardware. A Custom Capped Sudbury Fence and matching pool gate can create a charming border around your pool, designed with safety code compliant hardware, specifically for pool gates and for childcare safety areas.
Create Your Own Poolside Hideaway with Walpole
Walpole custom privacy fencing and pool gates are solid, durable, and built to last. Handcrafted in low maintenance AZEK, Walpole's fences and pool gates won't rot, buckle, or sag, and the board-on-board layout guarantees maximum privacy.
To ensure that the finished product lives up to your expectations, fencing and gate projects require meticulous measurements, expert design advice, and professional installation. Look for a partner who can provide all three. From consultation to concept to completion, you and your property deserve the best.
Walpole Outdoors specializes in creating amazing outdoor spaces for the most discerning homeowners. They are the leading designers, fabricators, and installers of the highest quality AZEK pergolas, and they offer a wide array of classical, contemporary, and fully customized design in fencing, gates, and outdoor furniture. Walpole designers are available now to schedule a free measurement and design consultation of your property, so you can start planning right now for your spring projects and enjoy the wonderful 2021 you've been waiting for.