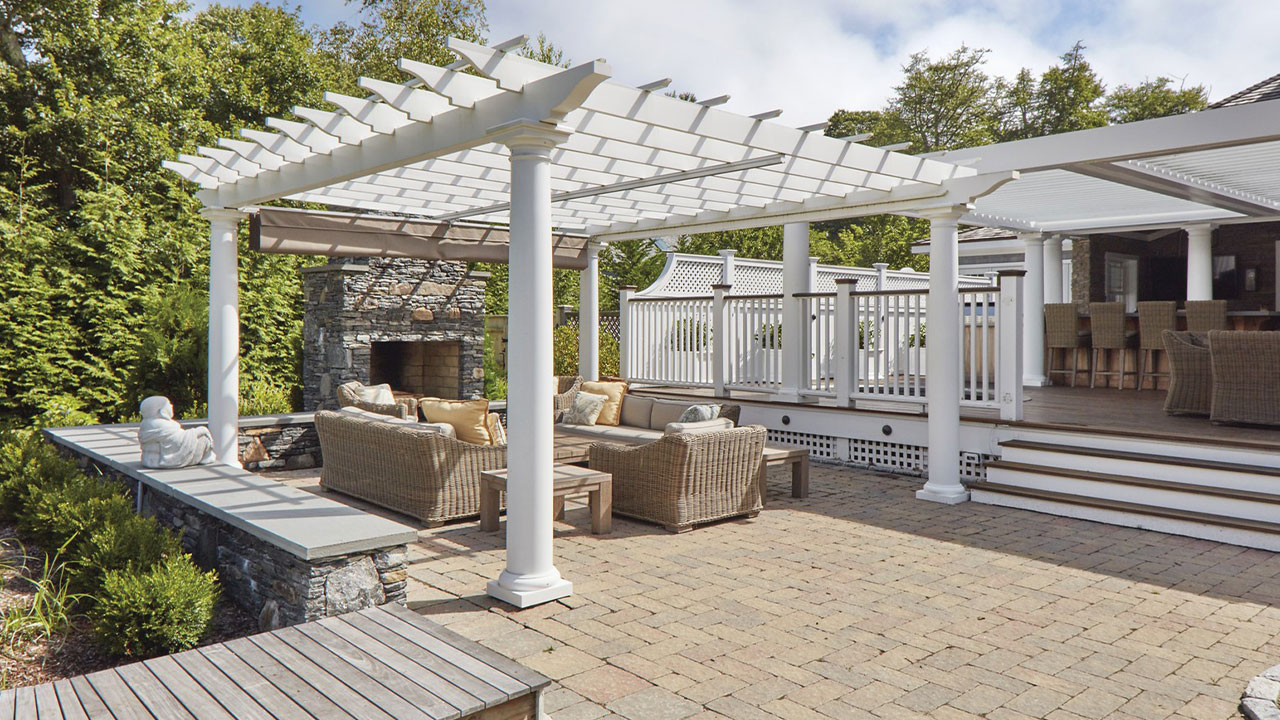 Winter is Coming: 6 Reasons Why Now is the Perfect Time to Install an Outdoor Space
---
Now that the temps have dropped, it's easy to let your outdoor renovation projects hibernate until things warm up again. It's a common misconception that patios, fencing, pergolas, and other outdoor structures can't be installed in the colder months. The truth is that winter can be an optimal time for planning and installing and/or upgrading your outdoor space. In fact, there's more than one reason why a winter install is a smart idea. Let's take a look:
1.) Less Damage
Hardscaping and landscaping renovations are simply easier in the winter. Since most trees, plants, and grasses go dormant in the cooler months, workers are less likely to damage existing plantings during the installation process—especially when there is larger installation equipment involved. Contrary to popular belief, it's possible (even beneficial) to install pavers in the winter. Likewise, lumber used for wood fences, pergolas, or other outdoor structures has had time to dry and cure, minimizing the risk of warping, shrinkage, or cracks. (Of course, this is a non-issue when using AZEK cellular vinyl, which won't warp, rot, or peel regardless of the weather).
2.) Shorter Wait Times 
Spring and summer are when things start to get busy across the industry, from contractors and landscapers to manufacturers and suppliers, adding major lag time to most outdoor projects. But during the winter slowdown, there's simply more time and manpower to dedicate to your project. Outdoor structure suppliers are usually well-stocked, work crews have more bandwidth—even checking city codes and procuring permits move at a much quicker pace.
3.) Less Disruptive
Whether your project is commercial or residential, there's a good chance your client won't be planning on utilizing the space until the weather turns warmer. This allows your team to get the job done quickly and efficiently and with minimal interruption. You can then move on to the next project faster, ultimately making the most of your offseason.
4.) Drier Weather
For many regions, the spring brings lots of rain (read: mud), while the summer is synonymous with humidity—both of which can make an installation process more difficult for various reasons. Winters, while cold, are typically drier, which makes the entire process—from material handling to groundwork—much easier.
5.) Ready to Go for Spring
Perhaps your client has other big projects lined up for the spring. Or perhaps they just want to be able to start using their outdoor space ASAP (and if they happen to be a restaurant in 2020, we can't blame them). In either event, a winter install allows them to start getting a return on their investment immediately, whether it's entertaining friends and family or expanding their business's footprint.
6.) Or Maybe Even Sooner
For homes and commercial properties that would like to be able to continue safely socializing this year, and an outdoor space that includes a heating element may allow them to do so. 
The winter doesn't mean you need to hit pause on creating an exceptional outdoor space. In fact, it might be the best time to get started. At Walpole Outdoors, we've been creating high-quality outdoor structures since 1933, and we've seen a lot of winters. If you're interested in learning more about how easy it is to get your next outdoor project underway this winter, give us a call. We're the outdoor experts.