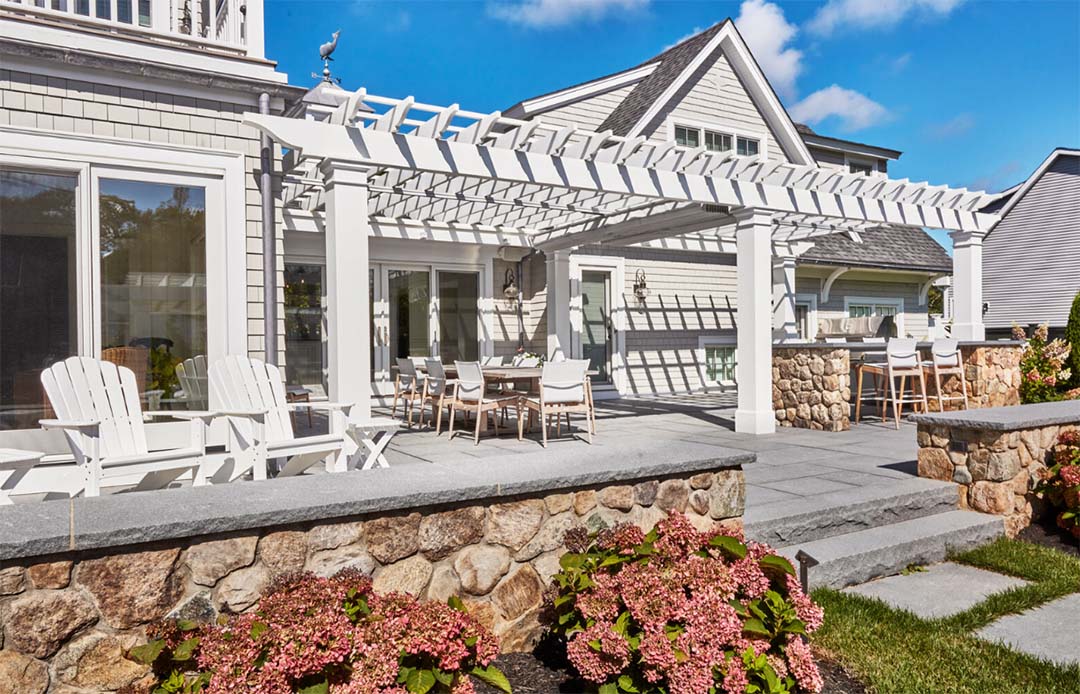 What is The Walpole Difference?
---
Since 1933, Walpole Outdoors has been designing, manufacturing, and constructing beautiful outdoor structures that have enhanced and defined countless outdoor spaces across the country. You can see beautiful Walpole structures and fencing at country clubs, colleges, shopping centers, corporate offices, government buildings, universities, and a multitude of residences nationwide.
Customers choose Walpole Outdoors time and time again to experience the Walpole Difference. So what exactly does that entail?
Timeless Structures
If you are looking for an outdoor structure to add to the exterior of your home or business, you want something that will stand the test of time. This is why Walpole Outdoors sticks with timeless, sophisticated designs that will look beautiful for decades.
When you invest in a Walpole structure, you invest in the longevity of your home's exterior. Whatever design you choose will never look tired or outdated because each style that Walpole Outdoors offers is designed to be loved for years into the future. So many homes and businesses have had beautiful Walpole structures in place for decades that still look fresh and modern.
This is not to say that Walpole only offers a handful of styles – quite the opposite! You can find numerous designs that reflect whatever aesthetic you prefer, from modern to traditional to coastal or rustic. Remember that whatever style you choose will always look as beautiful and current as the day Walpole installed it.
Custom Designs
If you want something truly unique, Walpole Outdoors can work with you to make your dream a reality. Walpole has decades of experience designing and manufacturing custom structures in various materials, including exotic woods like teak and mahogany.
Walpole employs expert staff who can work from your professional drawings, simple sketches, photographs, or ideas, to create the custom fence or outdoor structure that complements your taste, needs, and the architecture of your home or business. 
In addition to offering custom designs, Walpole offers numerous color options, including 100 choices in vinyl-safe paint, all with a 25-year warranty against chipping, blistering, and peeling.
When working with Walpole, you can let your creativity guide you with endless options at your disposal!
Quality Materials
Walpole Outdoors only uses the highest quality materials for outdoor structures and fencing. One of the most popular materials is the cellular vinyl wood alternative. Customers and partners are astonished by how cellular vinyl looks and feels like natural wood. This wood alternative is the best in the industry and will never warp or decay.
For structures made of natural wood, Walpole only uses the highest quality cedar to ensure that you get as much life out of your fence or wood structure as possible. With 90 years of experience in handling wood, Walpole has perfected the fabrication process to produce only the highest-quality wood products.
Advanced Manufacturing
Walpole Outdoors is at the forefront of manufacturing technology and is the nation's most experienced company in cellular vinyl fabrication. For more than a decade, Walpole has worked closely with the original equipment manufacturers of cellular vinyl to create more efficient and streamlined fabrication processes. 
From that, Walpole utilizes superior molding, laminating, and finishing techniques for every structure produced. Cellular vinyl is shaped, mitered, and routered using the same methods and tools used for generations when handcrafting in natural wood. 
Exceptional Service
Walpole Outdoors prides itself on providing the best customer service at each interval of the design and installation process. From your initial conversation with a design expert through to the final moments of installation, you can be assured that you are working with knowledgeable professionals who want to help make your dreams a reality.
Let's Get Your Project Started
Walpole creates iconic and timeless structures with the best materials and the most efficient process in the industry. Don't know precisely what you are looking for? Then, Walpole will work with you to design the structure of your dreams and make sure your next project is memorable. So get started on your next project today!