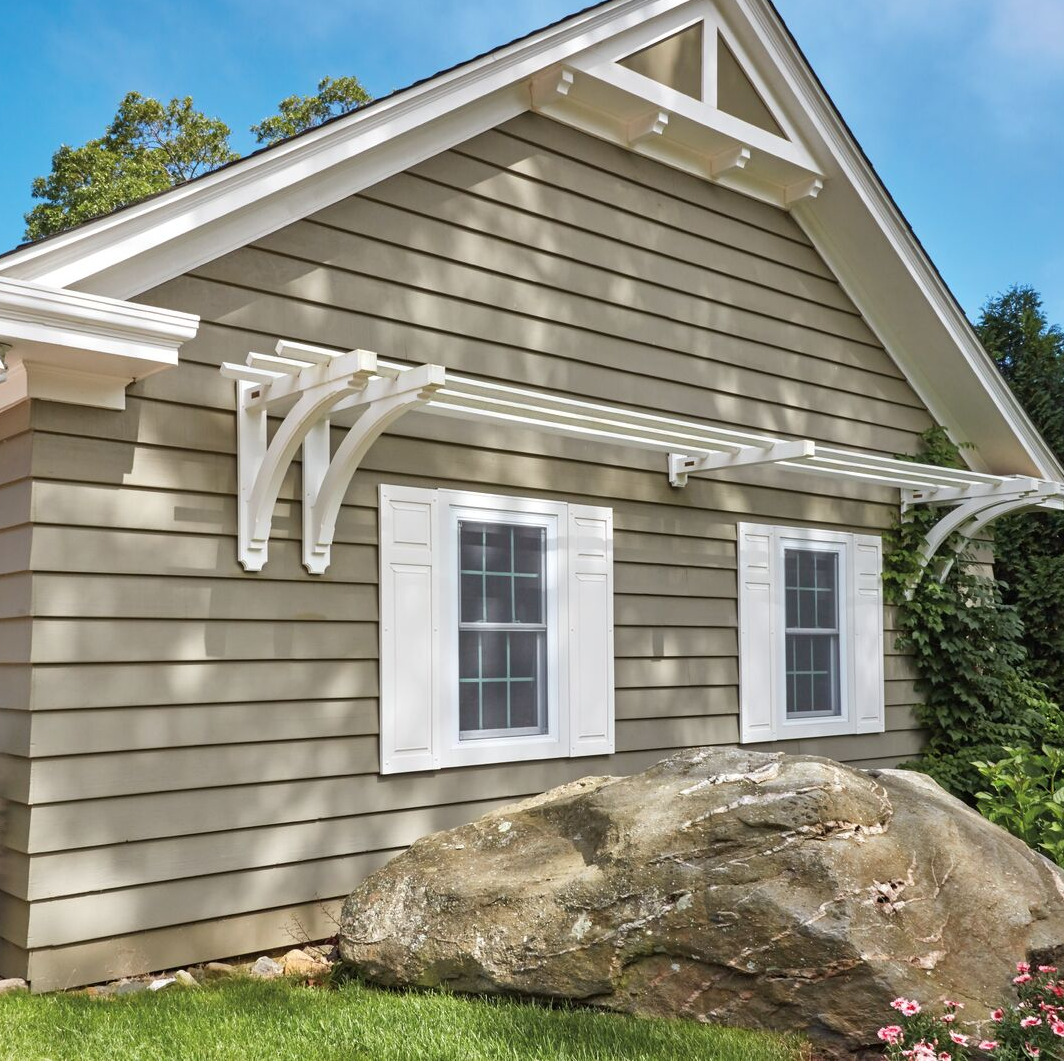 What Is An Outdoor Trellis?
---
There are many ways you can enhance the appearance of your home or garden without major construction. One of those ways is with a classic outdoor trellis.
If you want to add some architectural interest and curb appeal to your home there are many structures you can add to your home to add a little something extra. One of the most popular kinds of simple decorative structure is an outdoor trellis. 
But what exactly is a trellis and its purpose aside from looking interesting? What benefits can it bring to your home and garden? Which kind would work best in your space?
What Is An Outdoor Trellis?
A trellis is a simple structure made of wood, vinyl, or wire that exists to allow plants to grow on it, usually vertically. Trellises have an open lathing that allows climbing plants to quickly expand throughout the structure. These are perfect if you want to bring a little green to the exterior of your home via ivy or climbing flowers like clematis. Or you can use a freestanding trellis in your garden to encourage vining plants to grow upward. Many gardeners use these structures for tomatoes, cucumbers, and even melons!
Trellises are also used as simple home adornments even without the growing plant life. No matter what kind of trellis you choose they always add some architectural interest to a plain exterior wall or an interesting panel in a traditional fence.
Types of Outdoor Trellis
When you think of the word trellis you probably visualize one specific kind of structure. But there are many different kinds of trellis many of which have their own name.
Lattice
One of the most common types of trellis is a lattice. These are crafted in the classic cubed or criss-cross pattern and can be added to fencing, arbors, and homes and can exist on their own. Many homeowners love adding lattice panels to the exterior of their homes to encourage plant life to climb up. Even on their own lattice panels are attractive to look at, especially if they are arranged well.
An example of an attractive lattice is the Vinyl Lattice Panel Cameo. This structure is beautifully crafted with a gentle arch and oval cutout. Even without climbing plants, this is a beautiful piece to have in your home or in your garden.
Overhead Trellis
Another way homeowners add some beauty to their homes is with an overhead trellis system. These kinds of trellises are horizontal bars that allow plants to grow up and then horizontally.
Homeowners add these trellis systems over their doors, windows, or garages. The Marston Trellis System is a popular choice for homeowners looking to add some interest and dimension to the facade of their homes.
Obelisk
Another example of a trellis is the obelisk. This triangular structure is usually installed free-standing in a garden. The angled design allows plants to easily grow vertically wherever you place them. They also work as beautiful decorations within the landscaping.
You can choose a simple wire obelisk or you can choose something that will last and look amazing in the garden. The White Obelisk is crafted in cellular PVC, finished in white, and made to make a statement! This structure is strong enough to easily hold whatever climbing plant you choose while also looking beautiful on its own. 
The Benefits of a Trellis
Whichever style you choose, a trellis is a great addition to your home or garden. If you are a gardener, expanding vertically is essential if you want to get the most out of your space. A trellis allows you to grow upward and save some of your soil space for other flowers or vegetables. Plus they are just an attractive addition to any garden!
For homeowners, a trellis adds tons of architectural interest and dimension that always increases a property's curb appeal.
Final Thoughts
A trellis is essentially any kind of structure that is made for plants to grow on. Adding a trellis is a great way to give your home or garden a facelift without any major construction. For gardeners, the more you can encourage vertical plant growth the more space you will have to garden! There are a wide variety of designs and sizes so you can find the perfect trellis that suits your space.