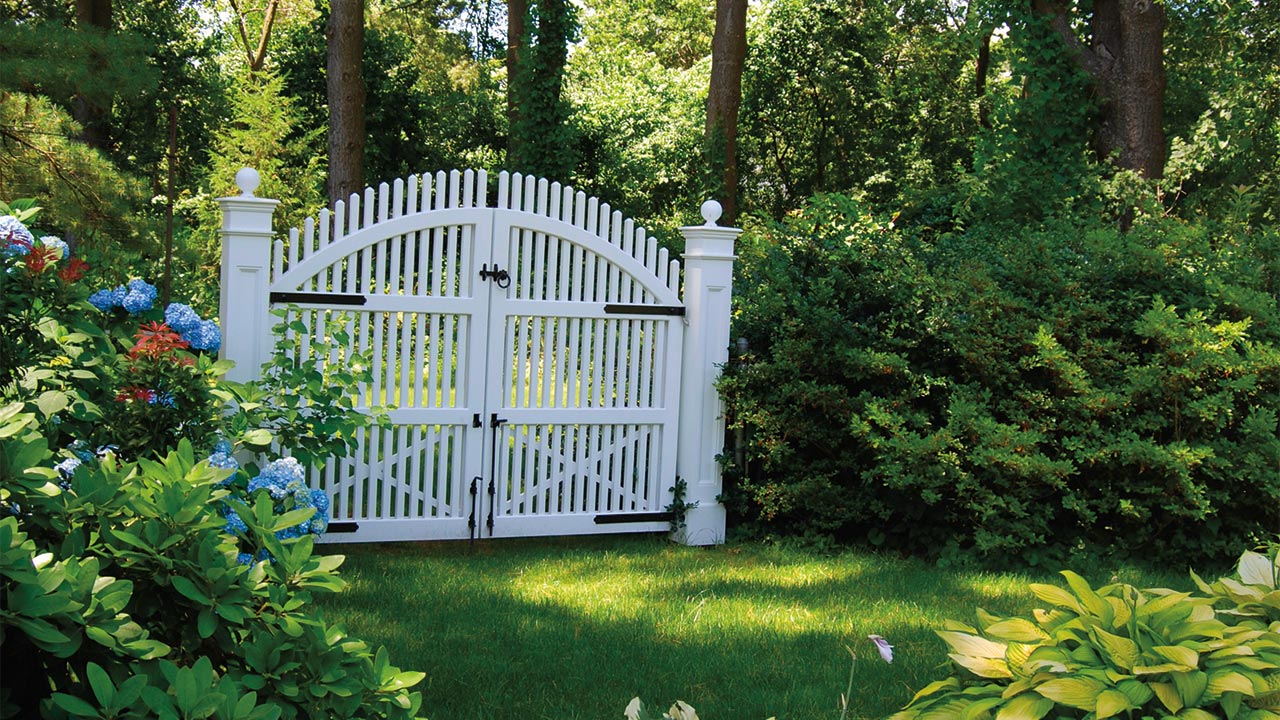 Truly Make an Entrance: Walk Gates
---
Ah, the perfect gate. The one that expertly blends form and function, style, and safety. Mirroring your home's architectural design and aesthetic while providing an additional layer of safety, gates can keep kids and pets in the yard, keep critters out, or create a privacy buffer. Whether freestanding or integrated into surrounding fencing, walk gates, when well-designed, become an extension of your home. Better yet, they make a first impression that lasts. 
Seamlessly blending with the natural flow and aesthetics of your property, an AZEK gate can be one of the defining factors of your home's curb appeal. And, whether you need to enclose a backyard space or conceal any unsightly physical elements adjacent to your property, you can transform your outdoor space into something truly unforgettable by adding a custom AZEK gate.
With an expansive range of styles from contemporary to cottage, New England to Floridian, Walpole gates are made of beautiful, durable, low-maintenance solid cellular PVC, customized to almost any height and width to secure a property's perimeter while enhancing its appearance.
Expertly crafted to enhance your entry, walkway or surrounding pool area, the quality and style of a Walpole Outdoors AZEK gate is unrivaled. Strategically positioned at your home's entrance, between two outdoor garden rooms or alongside a pool, Walpole's stylish gates and fences not only highlight the beauty of your yard, but they also add an extra layer of privacy, security, and safety.
It's all in the details
Whether you consider things like fencing and gates an extension of your home or merely a matter of function, there is an incredible range of styles, colors, and materials when it comes to making your design decisions.
Take the picket walk gate. With perfectly positioned vertical posts supported by a horizontal rail, picket gates and fencing are among the simplest to construct. Yet, even the picket gates come in a seemingly endless range of styles, from contemporary to grandma's garden. Even the smallest variation in design details can make a sizeable statement when it comes to selecting your gate.
Shape, design, and all of the decorative finishes play an equal role in creating your property's overall "vibe." Aesthetically, you've got some choices to make. Rounded or pointed? Coved or Convex? Charming or contemporary? The possibilities are plentiful.
For example, this Yorktown gate measures featuring a 6 inch Annisquam top is both elegant and stately. While this poolside scalloped Chestnut Hill Fence featuring crisscross walk gates offers a more contemporary aesthetic. Reminiscent of Walpole's custom Chippendale style, these walk gates at the Lindens House in Washington, D.C. have been meticulously reproduced in keeping with the period of this historic property. When it comes to customizing an AZEK fence or gate, the design possibilities are truly limitless with Walpole.
Perk up your Property with Color
Generally, if your gate is connected to your property's surrounding fence, the materials should be consistent for a more cohesive, seamless design. Perfectly paired sections of lattice fencing flank this double walk gate tastefully blending into the landscaping. Lattice fencing, like this, offers unobstructed views of the property while serving as a deterrent for critters and providing an additional layer of safety.
Though sometimes, delineating a gate with different, yet complementary material can create a focal point that truly stands out. One of the easiest and most effective ways to make a statement is through color. Like this show-stopping blue gate – who could walk past and not notice it? 
Walpole's signature collection of walk gates, arbors and lattice fencing comes signed, sealed, and delivered in your choice of more than 100 Sherwin-Williams VinylSafe paint colors. From verde to terracotta, you can customize your AZEK fence or gate to your taste with an extensive palate of color choices, guaranteed to last for 25 years.
Low on maintenance, high on performance.
Scientifically engineered to repel mold, resist weathering, and combat warping caused by environmental stressors at a level that can't be beaten, AZEK continues to be the industry-leader in a fast-growing outdoor living market. Over the last 10 years, Walpole has been expanding the use of AZEK to include nearly all our manufactured items, from custom gates to lattice fencing due to its durability and long-lasting beauty.
Call us to schedule a free measurement and design consultation of your property, so we can start planning right now for your next project.