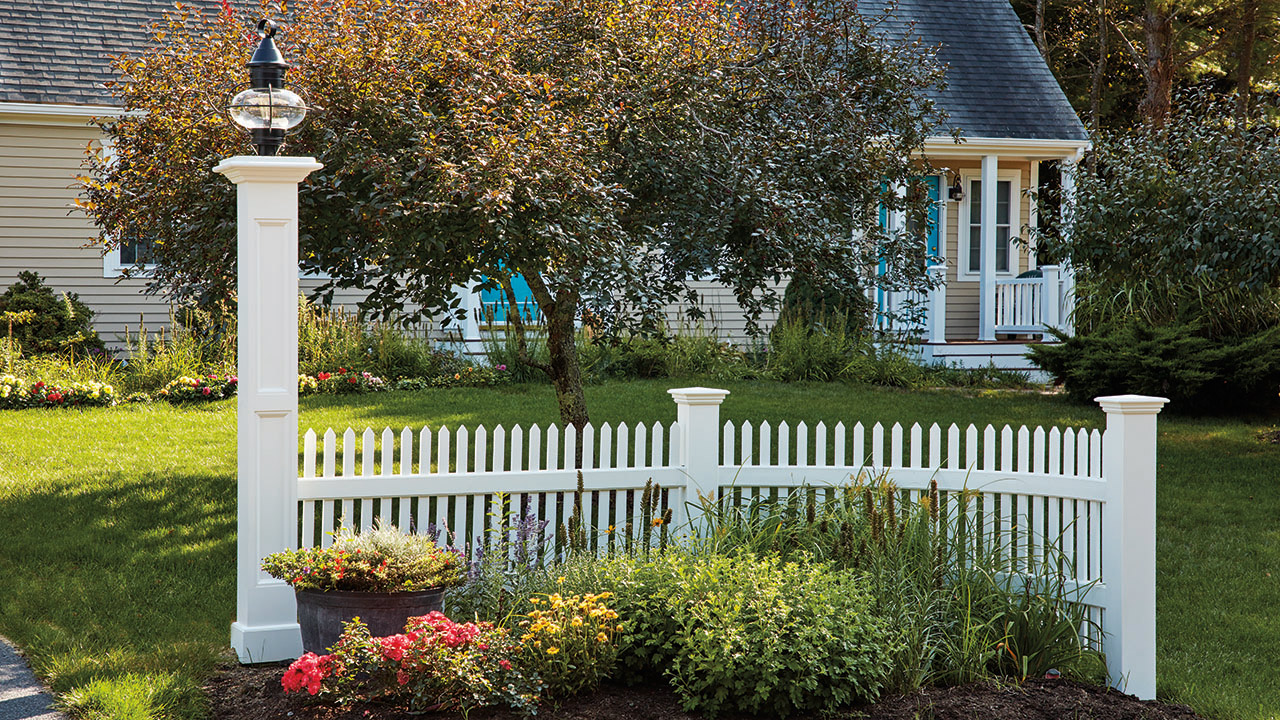 Get Ready for a Great 2021: Springtime Planning Starts Now
---
Every winter, we gaze out the window at our cold, empty yards and bare gardens. Longer days, and warmer weather are coming, we tell ourselves. Soon, we'll be welcoming company for lunch on the patio. Those empty flowerbeds will be full of lush color, and we'll be out there with the kids playing kickball or splashing in the pool. Even when we're not doing anything but quietly relaxing, it will be in the fresh air instead of on the couch.
And this year, you can make all of those outdoor experiences even better. The additions and enhancements to your outdoor home that create the perfect spaces for family, for company, and for you.
It's not too late, but it's certainly time to get those creative ideas and project plans in motion. AZEK pergolas or lattice fences with custom vinyl gates don't just appear like magic, and even something as simple as a planter box or outdoor rocker takes time to select, order, and ship. But with your vision, a little bit of guidance, and the help of capable pros, the 2021 you've been hoping for can come to life this spring.
Whatever you're most looking forward to doing this spring, there's an outdoor project you should be planning right now!
Entertaining is Everything: Put up a Pergola!
If you can't wait to welcome company back to your home for the first time in what feels like forever, Spring is your season. The mild weather is perfect for spending entire afternoons outdoors with friends for dining, wine & apps, or just talking without having to check if you're muted first. AZEK pergolas are an increasingly popular solution that upscale homeowners are using to create outdoor spaces where they can enjoy both the fresh air and the feeling of being in the same room with visitors.
What are AZEK pergolas? Well, you probably know that a pergola is a structure with posts supporting a slatted or open-rafter roof (but it can be much more sophisticated than that – check out these design ideas) that can be free-standing or attached to a home, a pool house, or other building, creating an open-sided, shady, multi-purpose space. These sturdy, low-maintenance structures are made (as the name implies) of AZEK solid cellular PVC. Layers of Polyvinyl chloride are compressed together, giving this synthetic (but environmentally friendly) material the look and grain of real wood, and some vendors will even deliver and install them pre-painted in hundreds of premium colors!
AZEK pergolas can be custom designed for your property, but even predesigned models and kits need to be carefully selected and installed. Now is the right time to explore pergola inspiration galleries, or even to schedule a design consultation.
Still On the Fence About Spring planning?
Good fences make good neighbors. Great fences make your yard amazing! Fencing does far more than merely give your property a functional perimeter; creative uses of picket, board, or lattice fences (augmented with details like designer colors, selected fence caps, or custom vinyl gates) create structure and spaces for all the experiences you'll share this year in your outdoor home.
Many families are gracing their landscapes with lattice fences, and it's easy to see why. Many styles of lattice fencing give a feeling of light and airiness, while still being sturdy and elegant. Lattice fences go beautifully around patios, pool areas, and garden enclosures, and they can be paired with custom vinyl gates that complement their style and invite passage from one area of your yard to another, whether as welcome guests or as kids heading out to play in the backyard.
To ensure that the finished product lives up to your expectations, fencing and gate projects require careful measurements, expert design advice, and professional installation. Look for a professional partner that can provide all three. From consultation to concept to completion, you and your property deserve the best.
Come Out and Sit a Spell
If the idea of planning big, involved projects leaves you feeling overwhelmed, take a seat and rest – but not just any seat will do. An easy project (but one you shouldn't put off for too long) is adding quality, comfortable outdoor furniture to your property for you and your guests to enjoy.
An assortment of comfy chairs, an end table or two, or an outdoor rocker can help make your patio, your deck, or your anywhere in your yard your new favorite sitting room, dining room, or family room. AZEK pergolas and the versatile spaces they create can even be outdoor multipurpose rooms: with a dining table and benches for a late spring cookout or as the perfect shady reading nook for one, with a good book and a comfy outdoor rocker.
Quality is everything when it comes to selecting outdoor furniture, and skimping on cost can all too often mean that you'll be buying a replacement within a year or two. Look for top-rated brands and don't hesitate to take advantage of the free consultations some professional outdoor designers offer to find the styles that are right for you and your home.
Where to Start?
Clearly, now's the time to get planning for your 2021 spring projects. And where you start is at least as important as when. Even if you've got a great sense of style or a clear image of the outdoor home you want to enjoy and share, consulting a professional designer before you commit to any purchases or construction is a great investment. And if you choose the right consultants, that investment can be free.
Walpole Outdoors specializes in creating amazing outdoor spaces for the most discerning homeowners. They are the leading designers, fabricators, and installers of the highest quality AZEK pergolas, and they offer a wide array of classical, contemporary, and fully customized design in fencing, gates, and outdoor furniture. Walpole designers are available now to schedule a free measurement and design consultation of your property, so you can start planning right now for your spring projects, and enjoy the wonderful 2021 you've been waiting for.