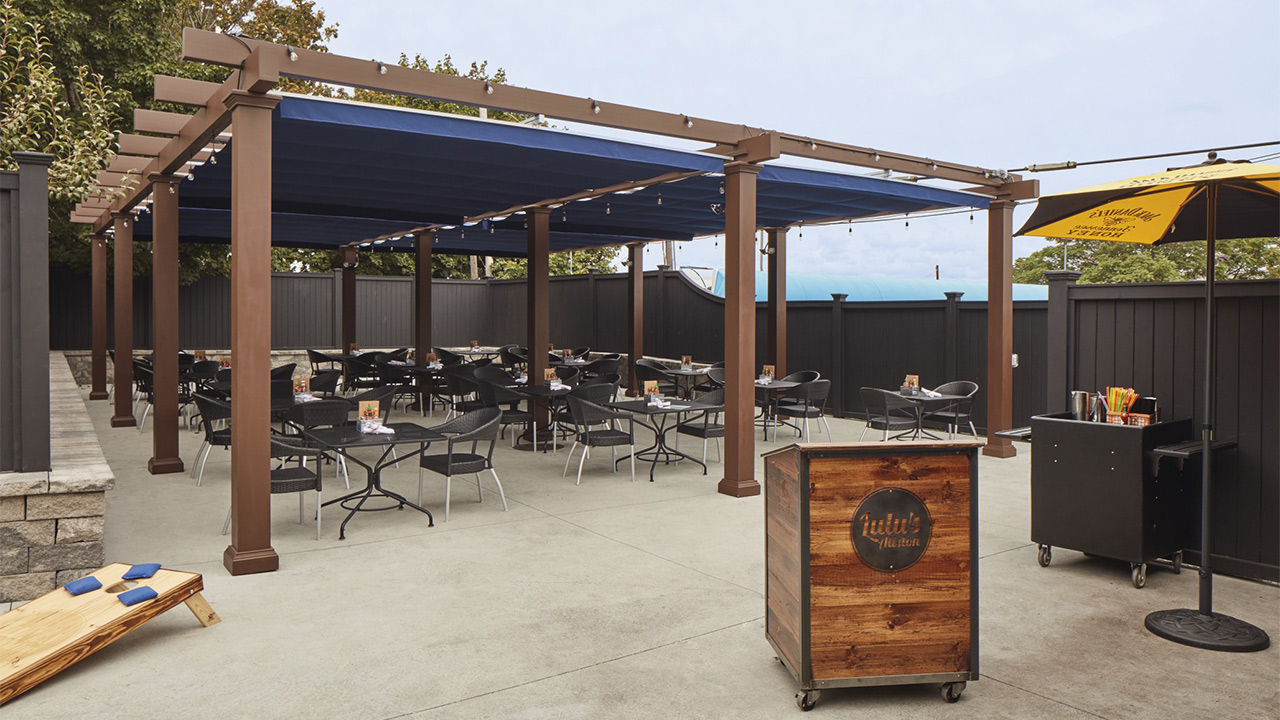 From Emptiness to Elegance: Transforming Public Spaces with a Commercial Pergola or Arbor
---
Over the last 3,000 years, pergolas and arbors have been used to create, accent, and define outdoor spaces. While the actual terms "pergola" and "arbor" and their definitions have been used somewhat interchangeably since ancient times, their functions have remained unchanged. Covered outdoor spaces have continued to remain a necessary provision in public spaces, whether for providing a shaded space on hot days or for improving visual intrigue by adding hints of room-like structure to empty outdoor spaces.
No doubt these architecturally inviting areas enliven public spaces. As you incorporate arbors and pergolas into your architectural and landscape designs, it's important to have a reliable partner to fulfill your specifications and renderings and achieve the most impressive end results.
A career of creating cohesion with structure
Many forward-thinking architects and designers understand the need to develop intentional outdoor spaces that serve as focal points for both activity and for relaxation. And one of the most effective ways to transform a space lacking purpose and structure into an elegant one is by integrating premium quality structures like a custom vinyl pergola or custom arbor. Delineating different areas for public use and unifying overall site features and spaces into a cohesive whole, a commercial pergola-defined area within a public space creates an impetus for social events and public gathering.
For more than 85 years, Walpole has been crafting such premium products that define some of the most distinguished properties (business, municipal, and residential) across the country. Our commercial and public use pergolas can be found at universities, high schools, senior housing locations, country clubs, and other public and private spaces. From five shade pergolas on Sea Isle City Boardwalk to a handsome Walpole four-column pergola defining an outdoor seating area for employees at a corporate office, we create truly distinctive products with superior laminating, molding, and an unrivaled finishing technique in our state-of-the-art facilities. You see, Walpole doesn't just make a commercial pergola more efficiently (potentially putting more options within your project's budget), we make it better. By working with Walpole, you not only gain another set of eyes on your design process you also double down on the quality you're putting out.
While many fine off-the-rack styles exist for commercial pergola and arbor projects, there's nothing like your personal designs to transform your clients' properties in ways you'll be proud of. In collaboration with architects and designers, Walpole streamlines and improves the design-to-build process, making it easy to integrate top-quality, finished structures like a show-stopping vinyl pergola or custom arbor crafted from AZEK to any outdoor public or commercial space project. We work directly with design and architecture professionals to deliver uncompromising quality and unrivaled style, and we are ready to partner on your next big project.
Your only partner for AZEK excellence
Walpole has always offered and enjoyed close partnerships with builders and architects, creating custom outdoor structures, meeting exacting specifications, and adapting to changing styles and trends. For nearly a decade, Walpole Outdoors has been using AZEK, expanding our use of this environmentally friendly material to include nearly all of our manufactured items due to its durability and long-lasting beauty. In addition to natural woods and metals, many of our custom premium outdoor structures are handcrafted in the low maintenance, long-wearing cellular PVC known as AZEK.
Leveraging innovations in material science to offer sustainable solutions, AZEK has truly revolutionized both the residential and commercial building industries. The truth is, when it comes to construction, not all materials (or even all composite materials) are created equal. AZEK is unique among synthetic building materials, offering beauty and durability with little to no maintenance. With the texture, look, and feel of real wood, AZEK is an alternative material outlasting its counterparts by a mile.
As the leading fabricator of AZEK, Walpole is more than just a high-end service partner, we are the industry leaders. Walpole Outdoors specializes in creating amazing outdoor spaces for the most sophisticated designers and discerning homeowners with fully customized AZEK projects. Our standard design collections as well as customized work guided by your specifications include AZEK pergolas, arbors with gates, and fences ready to integrate seamlessly with your public space landscape projects.
The Walpole commercial pergola or custom arbor you design can be specified in one of more than 100 Sherwin-Williams VinylSafe paint colors. From classic white to deep Verde green, all Walpole AZEK products can be fully customized with an expansive palate of color choices, guaranteed to last for 25 years.
Plus, Walpole can craft a pristine new vinyl pergola or custom arbor in a style that replicates that distinctive wooden structure, offering nuanced wood grain patterns and even wire-brushed finishes. Our arbors with gates and pergolas can be made to look and feel exactly like historic natural wood yet they won't rot, peel, or crack. Honoring the beauty and integrity of many historic landmarks, Walpole and AZEK have together partnered on impactful restoration projects, creating sustainable solutions that preserve the past for future generations.
Collaborate, Conceptualize and Create with Walpole
Housed under one roof, we provide expert, personal service to architects, landscape architects, interior designers, custom home builders, and developers.
As a trusted manufacturer of premium products like pergolas or arbors with gates, we collaborate throughout the entire design and manufacturing process, allowing you to continue to grow and meet your clients' needs more easily in an increasingly competitive market. From concept to completion, Walpole Outdoors is ready to provide you with unique engineering, CAD and CNC milling, and unparalleled partnership and support throughout the entire design and manufacturing process.