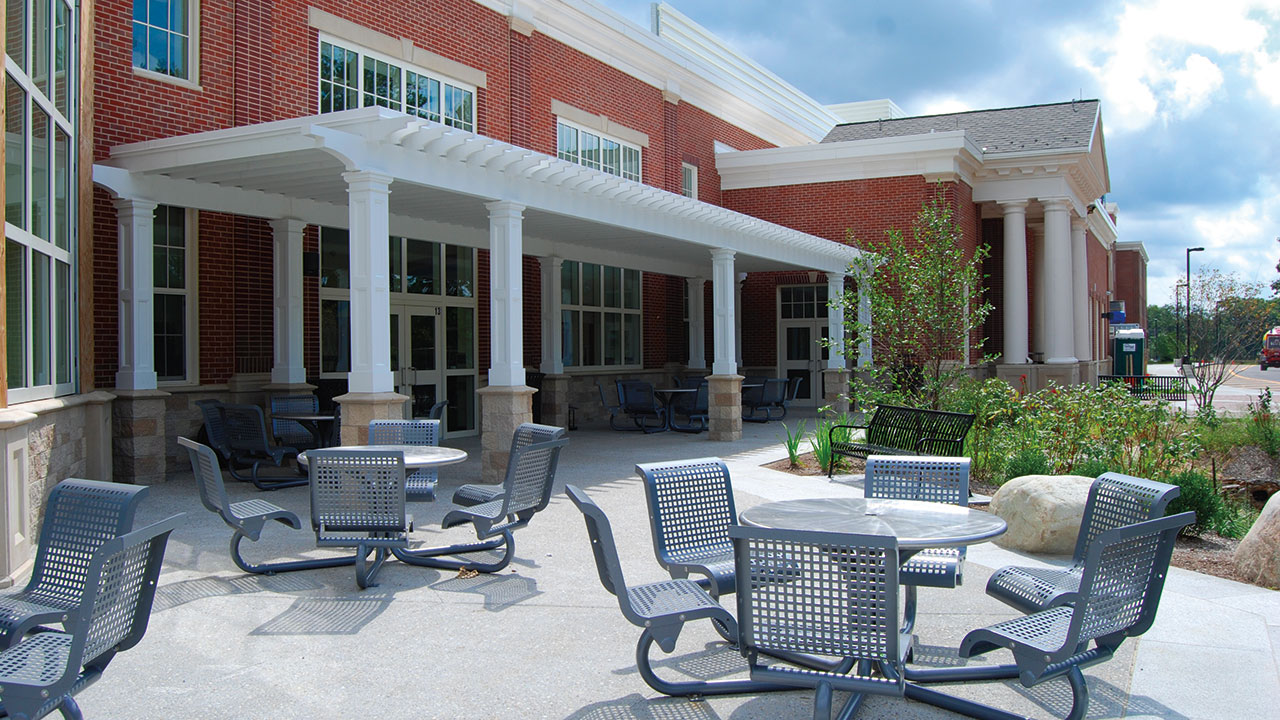 Don't Waste the Winter: Use the Offseason for an Outdoor Project
---
For homeowners, springtime is the siren call when it comes to outdoor renovation projects. When the temps start to lift, the desire to come out of hibernation kickstarts many a home project. But commercial business owners know that in order to stay ahead of the game (and maximize their patronage), they need to be a few paces ahead of their customers. For that reason alone, winter is a perfect time to create a welcoming and useful outdoor space. Today, we're talking winter commercial outdoor projects—and why the offseason is ideal for installing AZEK pergolas, lattice fences, and other structures.  
Ready for Springtime Customers
Restaurants and hospitality businesses that offer aesthetically pleasing outdoor spaces can see an uptick in traffic at the first sign of spring. All it takes is a hint of sun and warmth, and your customers are ready to hang up the heavy coats and spend time outside. Be ready by creating a welcoming space during those winter months. Outdoor structures like a commercial pergola are easy to install, define space, and add aesthetic appeal, while board fences or lattice fences obstruct unpleasant views and create secluded courtyard ambiance.
Projects Are Completed Faster
Restaurants and hospitality properties aren't the only businesses that see more traffic in spring. So do commercial builders and contractors. And higher demand for outdoor project work can lead to longer wait times for materials and execution. During the offseason slowdown, there's more time, materials, and workers to get your job done. Even details like checking city codes and getting permits for board fences, etc, move much faster during the winter. 
Less Property Damage
Contrary to popular belief, hardscaping projects can cause less property damage in the winter, which may be even more appealing if you lease your property. Most trees and plants go dormant in the winter, making damage to the landscape less likely. Likewise, the ground cover is almost bare, creating a clean canvas for ideas. Cold winter months give lumber used for commercial pergolas a chance to dry and cure, mitigating the risk of warping or cracking. (Keep in mind, Walpole AZEK pergolas and lattice fences are made from cellular vinyl, which doesn't rot, peel, or warp, regardless of the weather, making it a smart choice for commercial properties for years of beauty). 
Less Disruptive to Business
As spring and summer pick up, so will your business. Outdoor work can be disruptive—particularly if it's on a commercial pergola on the front facade of your building or new board fences around an existing and usable outdoor space. Getting it done in the winter helps minimize inconvenience and interference with your customer's experience. 
Start Using it Sooner
If your outdoor space features a heating element, you can begin using it straight away. Thanks to the past few years of pandemic living, people are far more amenable to spending time outside—particularly when there is a cozy gas fireplace. After a long winter cooped up inside, that's an idea your customers will likely warm up to. 
If you are a hospitality business owner or property manager, winter isn't just an opportunity to make plans for a successful spring. It's the perfect time to start putting those plans into action. Walpole Outdoors has defined stylish residential and commercial properties since 1933, so we've seen a winter or two. Our professional designers and the fabricators who hand-craft our products in our state-of-the-art New England facilities have extensive experience with commercial AZEK pergolas, customized fencing, and every structure needed to bring your outdoor spaces to life in time for a thriving spring. If you're interested in making the most of the season by recreating your outdoor business space, schedule your free measurement and design consultation today.