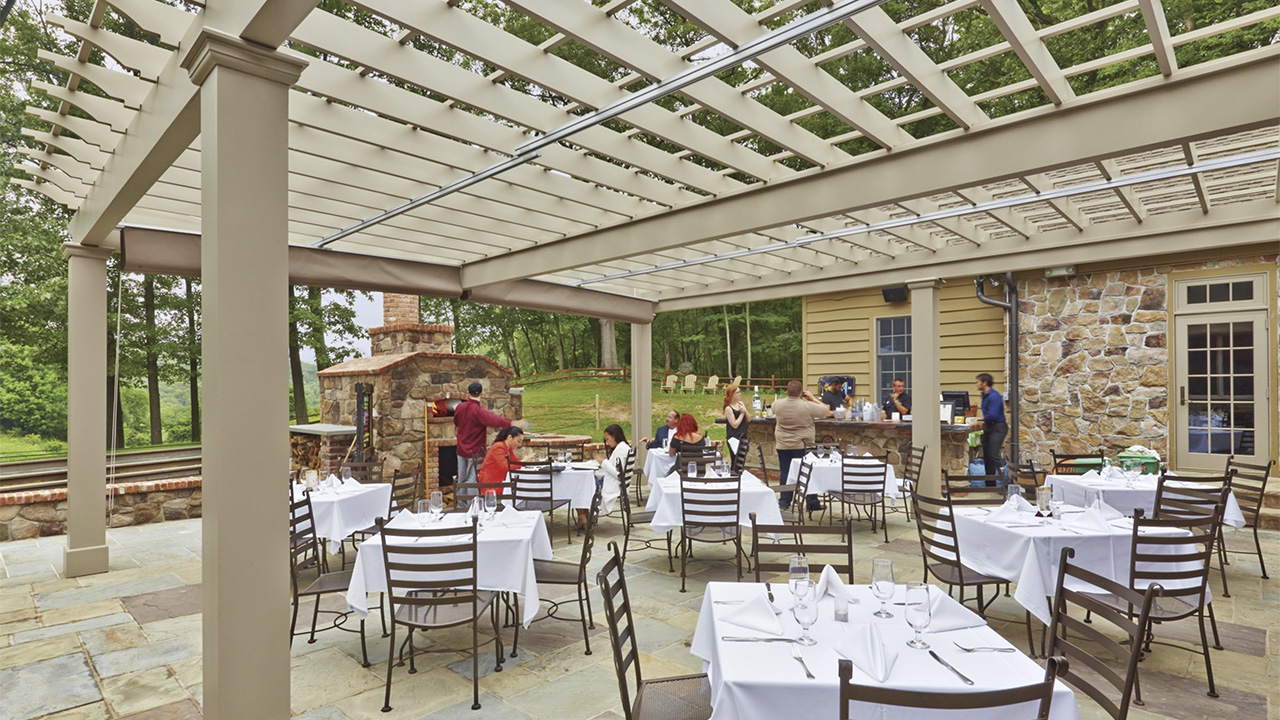 Create a Standout Outdoor Dining & Bar Experience at Your Business
---
More than ever, restaurateurs need to be creative. With seating limitations, diner wariness, and a big shift to takeout, eat-in establishments never had it so tough. From setting out tables on sidewalks, in parking lots and alleys, and even on streets partially closed to traffic, al fresco dining has become a standard throughout most of the country.
With the welcome arrival of spring, restaurants can see the proverbial light at the end of tunnel. Restaurateurs who have been nimble and innovative in setting up unique outdoor spaces to accommodate their guests have seen increased profits at their bars and restaurants, in spite of the global pandemic. This season, you can position your restaurant or bar with a beautiful outdoor-dining space to capture your diners' appetites and imaginations and keep them coming back for more.
Sidestep what everyone else is doing (think igloos and picnic tables) with truly standout custom spaces that are both elegant and unforgettable.
If You Build It, They Will Come
Dining outdoors offers the chance to slow down and relax. And while there may not be actual proven scientific evidence to back it up, food and drinks just taste better when enjoyed outside (and your customers know it).
Easily one of the most visually appealing ways to level up your outdoor experience, commercial pergolas can offer shelter from inclement weather, enhance the overall atmosphere of your outdoor dining space, and provide room for additional seating. Plus, there's nothing like a gorgeous AZEK pergola to draw visual attention to your business.
Imagine your customers stepping outside onto a swoon-worthy outdoor space, complete with a pergola with built-in lighting. Add music and lush greenery to create the perfect atmosphere that draws diners in droves — not only your regulars, but also passers-by who are attracted by the sight of happy customers. This simple addition of a pergola can transform even the most unremarkable patio bar or sidewalk dining area into an unforgettable place to eat and drink. And that diner impression has real value: according to The Simons Advisory Group, a $200,000 investment in your outdoor dining space can result in an overall sales increase by $500,000—possibly more if your restaurant offers year-round outdoor seating.
Think your place isn't right for a pergola? You may need to think again: Sidewalk café? A gorgeous, attached pergola out front can drive foot traffic. Rooftop Restaurant? A pergola with built-in lighting provides the perfect backdrop for private events. Long-overdue live music? Put the band under your new pergola. Outdoor seating is the best kind of advertisement for your business. Not only do pergolas a premium outdoor lighting create a great environment for snapping shareable pics of your establishment, anyone driving or walking by your outdoor dining space can easily imagine sipping sangria on your perfect pergola-covered patio. That can really add up: outdoor seating lifts revenue by 33% on average.
Attached or freestanding—commercial pergolas undoubtedly offer increased value. Add a pergola outfitted with recessed column lighting to encourage evening socializing. Allow greenery to climb up your pergola with artfully-designed built-in planter boxes. And create a dreamy atmosphere with custom latticework and artfully placed lantern posts throughout your outdoor dining space for the ultimate outside veranda.
A Pergola For All Seasons
Some of the features of premium commercial pergolas can mean that contending with harsh weather elements is no longer deal-breaker. During the warmer months, pergolas provide much-needed shade and a respite from high temperatures. Unlike a simple awning, a pergola diffuses natural light, creating a light and airy space that keeps your diners cool, calm, and comfortable. Even when temps continue to rise in the heat of the season, commercial pergolas can block that intense sunshine that might otherwise limit your outdoor dining offerings.
When the weather does not cooperate, the addition of a retractable pergola canopy or shade can protect your diners from intense sun and light rain and help to keep your patio or rooftop open for business, therefore maximizing your outdoor investment. When accompanied with fencing or latticework, a pergola can also significantly reduce the impact of wind. 
As the months turn colder, commercial pergolas with canopy additions can allow your business to continue to provide an outdoor dining experience by retaining the heat generated by outdoor space heaters. And in the winter season, a pergola is simply magical when outfitted with outdoor lanterns, holiday lights, and evergreens.  
Lure Them with Lighting
When it comes to outdoor dining, you shouldn't underestimate the importance of lighting. The exterior of your restaurant is the very first thing your potential clientele will see. Utilize outdoor lighting as an opportunity to showcase your restaurant, drive foot traffic and increase your profitability.
Make a statement and install elegant granite lantern posts topped with beautiful outdoor lanterns throughout your outdoor dining space. Walpole Outdoors offers an extensive selection of custom-milled, granite or AZEK lantern posts in traditional, historic, and contemporary styles. With quality detailing that is truly the hallmark of Walpole excellence, our handsome lantern posts can transform your space into something quite exceptional.
Elevate Your Outdoor Dining Space With Walpole Outdoors
Define an entryway, provide privacy and shade, and create an unforgettable outdoor space at your restaurant with our expansive selection of custom AZEK commercial pergolas, lantern posts and outdoor lanterns.  Crafted and installed by Walpole Outdoors, you can choose from any of our stylish design lines or let our artisans match your restaurant's architecture.
If you're ready to transform your outdoor space and create the outdoor dining and bar experiences your customers crave, we can develop a solution that matches your needs. Discover the difference quality craftsmanship makes and schedule your free consultation today with Walpole Outdoors.