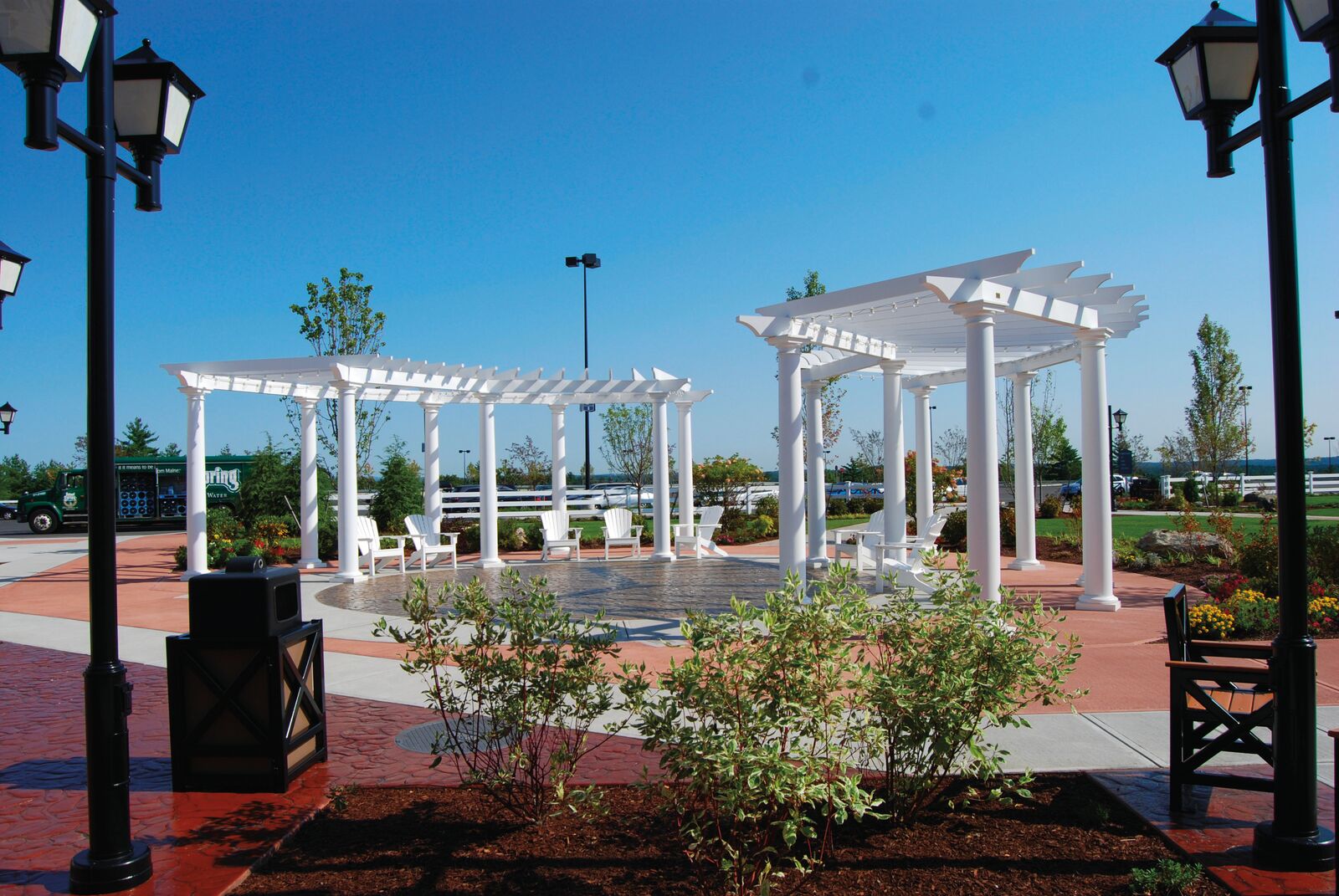 Impress Your Clients With Classic Outdoor Structures
---
When designing a residential or commercial space, you want to ensure that it impresses your clients and passersby. That is why developers and designers trust Walpole Outdoors to create memorable outdoor structures.
If you are working on a project, you want to ensure that the outside is as beautiful and inviting as the inside. The best way to accomplish this is by adding a beautiful, classic outdoor structure.
Outdoor structures add dimension to any outdoor space – giving you a visual focal point that will always draw eyes in. Outdoor structures are perfect for enhancing an entry, an empty space, or adding a bit of tranquility for people to sit and relax.
Whether or not you have a lot of exterior land, you can utilize one or both of our favorite classic outdoor structures to make your space extraordinary.
The Classic Pergola
One of the most striking ways to add beauty to an exterior space is by adding a custom pergola. Pergolas have been around for thousands of years, defining outdoor spaces and creating shaded places to sit and relax. Pergolas can be attached to a building like an extension of that structure or freestanding in whatever location you want to make a visual focal point.
Pergolas work well in various spaces and come in whatever shape and size suit them, from square to rectangular to circular! Commercial spaces benefit from a pergola because it serves as a focal point that will draw the eye away from a parking lot or piece of empty space. Check out this custom radius pergola at Union City High School in New Jersey.
Adding a pergola in a public space is a great way to create a designated area for people to gather and relax, especially in shopping centers where you want people to spend some time or libraries like this kit pergola installation. In a private space, it can serve a similar purpose for the property's owners and their families and friends. Many homeowners will get so much use out of their pergola that they will see it as an extension of their home and living space!
But pergolas don't always have to be used as a place to gather. Commercial spaces like corporate offices utilize pergolas as more of a decorative structure than a functional one like this custom entryway pergola at the Inn at Perry Cabin in Maryland. This is a great way to transform a wide-open space into something more visually appealing.
Regardless of the space you are trying to define, a pergola is a great way to add some structural beauty that will be hard to ignore.
Elegant Arbors
Another classic outdoor structure that will get your project noticed is an elegant arbor. Like pergolas, arbors have been around for thousands of years, framing entries to buildings and gardens alike.
Arbors are a great way to enhance or draw attention to the entryway. They can be used with a fence and gate or freestanding on their own, like this extra wide arbor with a concave fence. The sweeping nature of the arch adds a bit of wonderful whimsy to a space. In addition, arbors serve as excellent structures for landscaping.
One of the best things about arbors is that they fit almost everywhere. An arbor will still fit in nicely if you have a project without a lot of additional land. Depending on the size of your space, you can find a Walpole arbor that will fit in perfectly. Who wouldn't want to walk under an arbor to enter your garden, home, or business?! Imagine passing under this picturesque arbor into a rose garden!
The Walpole Difference
For 90 years, Walpole Outdoors has been designing and constructing beautiful outdoor structures that have enhanced and defined countless outdoor spaces. As a result, you can see beautiful Walpole pergolas at country clubs, colleges, shopping centers, corporate offices, high schools, universities, and countless private residences across the country.
Walpole creates iconic and timeless structures with the best materials and the most efficient process in the industry. Don't know exactly what you are looking for? Then, Walpole will work with you to design the pergola or arbor of your dreams and make sure your next project is memorable.
In addition to design and construction, Walpole Outdoors is unmatched in quality. Each piece is crafted from the highest quality materials to ensure that your Walpole structure will look brand new for years to come.