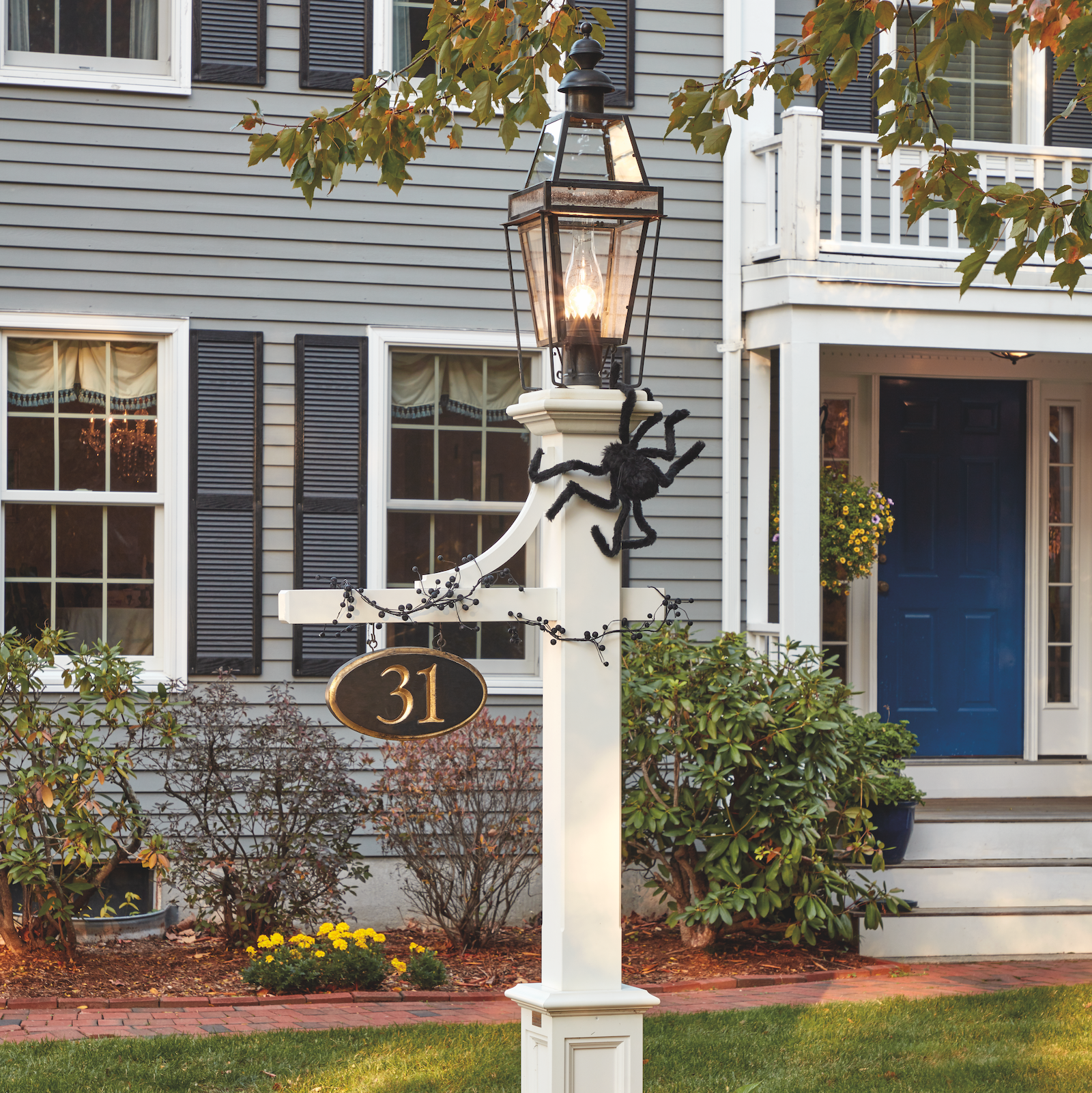 How to Style Your Lamp Post for the Holidays
---
What's better than decorating for the holidays? Whether you start with the fall or wait until the Christmas season, there is no limit to your holiday creativity. If you want to get noticed, make sure you include your lamp post in your 2022 decor plans.
One of the best things about the fall and winter is that they are prime time for holiday decorating. Even if you don't go all out there are a few places you can add a touch of the holiday spirit to the exterior of your home. One of these places is your lamp or lantern post. 
Maybe you have multiple lantern posts or perhaps you only have one. Regardless, there is a lot you can do to add touches of holiday fun in a place where they will get noticed day and night. If you don't have any ideas on where to start don't worry! Here are a few ways you can easily add some holiday cheer to the outside of your home.
Wreaths & Bows
One of the easiest ways to add some fun to your lantern post is to add something that you can attach to the post itself like a wreath or bow. These are great options if you want something simple and easy to remove.
Wreaths are not solely for the Christmas season, you can get a wreath that is suitable for just about every season. Simply create or purchase your wreath and attach it to your lantern post with a hook or zip ties that you can easily cut off. If you install some kind of hook you can easily change out your wreath as the seasons change.
If you would rather add a bow, make sure you pick something large enough to be seen from afar. Also, be sure any bow or adornment is waterproof so it can last throughout the season and into the next year. If you live somewhere with snow make sure you place the bow or adornment higher on the post so they don't get damaged if there is heavy snowfall.
Flowers & Base Decor
If you have a green thumb (or can pick out a great premade arrangement) decorating the base of your lantern post with flowers can be striking! Whether you choose real flowers or fake ones, a small garden around your lantern post can be a great way to decorate for the holidays. If you choose real plants make sure you choose something that is in season so it lasts as long as possible. You don't want to spend time planting flowers that die during the first freeze!
If you want to go a step further add some pumpkins and maybe a planter or two! During the Christmas or winter season add a couple of faux gifts, short evergreen trees, and more. This is a free space in a prominently seen area of your home, be free to make any scene you desire.
Lights & Garland
Your lantern post may have a light on top but that doesn't mean you have to stop there! One simple way to add a little something extra to your decor is to wrap some string lights around the lantern post. You can choose simple white lights or go for something more festive in December.
If you add some string lights why not add a bit of seasonal garland as well? During the fall season choose something with fall leaves or corn stalks and during the winter go for some faux holly or evergreens. Just make sure anything you add to the lights won't catch fire if you leave them on for a few hours.
Final Thoughts
You can't go wrong when decorating for the holidays! Using the more prominent exterior fixtures is a great way to add some fun to your home during the holiday season. Even if you choose a more minimalist approach, the lantern post is a great space for adding decorative touches without being too much.