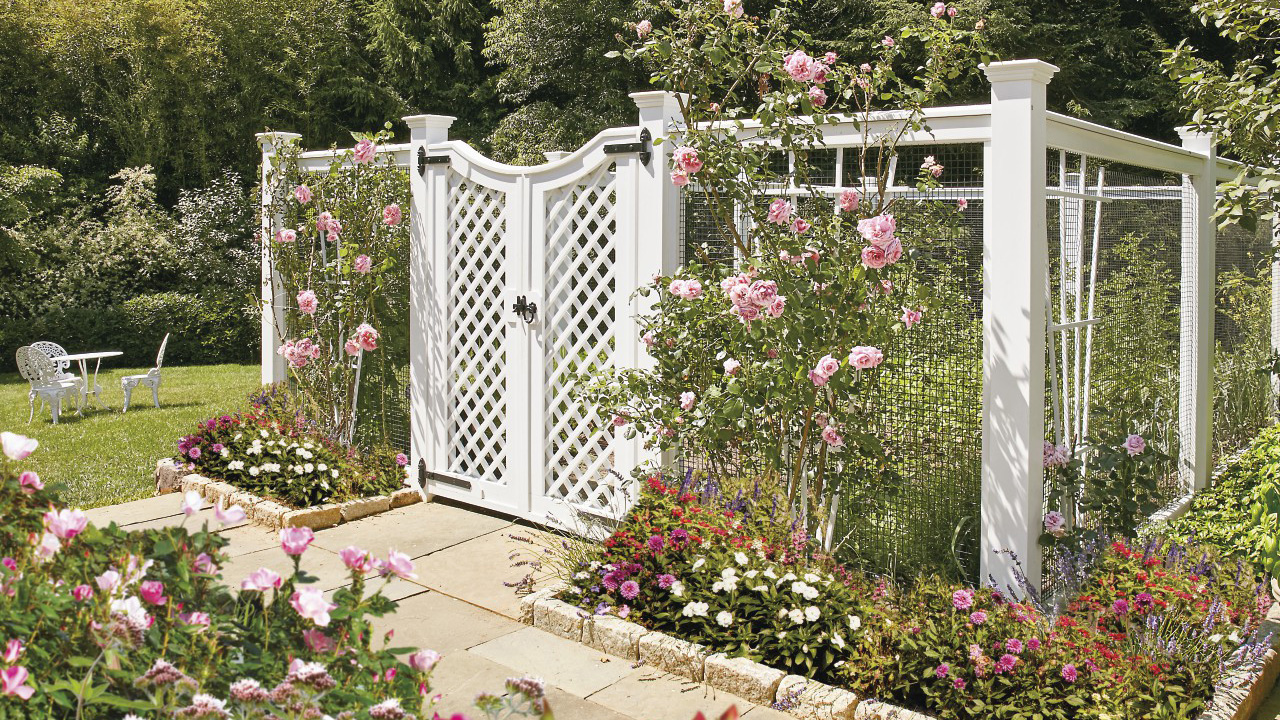 Gorgeous Gardens Deserve Incredible Enclosures
---
Waiting for spring can leave you feeling as antsy as a kid waiting to unwrap their birthday presents. You've been counting down the days thinking, will it ever get here? While the ground might be frozen solid and snow very well may be in the forecast, there's no better time than now to scheme and dream of your garden and the warm days to come.
Ah, your garden. That special little corner of the world to retreat to, to find solitude in, to refresh and to renew. A beautiful enclosed garden is like an extension of your home offering an outdoor living space for family and friends to enjoy both fresh air and each other's company. Carve out your own outdoor oasis by enclosing your garden with a customized Walpole enclosure and create a space perfect for al fresco entertaining, socializing and gathering, especially when indoor entertaining may not be viable. Wow your guests this spring with beautiful garden enclosures that range from traditional to contemporary to rustic.
Define Your Garden In Style
The fencing you select for your enclosed garden tells your story. What do you want it to say about your style? Think about your garden like any other room in your home, minus the ceiling. How would you design it? Walpole's expansive line of custom AZEK fences offers limitless possibilities for truly stunning garden enclosures. By enclosing your garden spaces with custom AZEK fences, you not only protect all of the time, energy, and effort you have put into your garden; but you also add some serious aesthetic appeal.
A traditional Walpole board fence is solid, durable, and built to last. Handcrafted in low maintenance AZEK, these premium board fences won't rot, buckle, or sag, and the board-on-board layout ensures maximum privacy. Custom AZEK fences not only protect all of the time and hard work you put into your garden; they're also easy on the eyes.
Add on a layer of extra interest to a traditional board fence by topping it with a contrasting panel. Consider dressing up your tried-and-true traditional board fence with an English Lattice Topper.
Feeling uninspired by a traditional white fence? Don't shy away from a more modern board fence design. With 125 colors to choose from, make a statement with bold hues like verde or cobalt that will pair perfectly alongside a lush green lawn. (TIP: Hang decorative garden lights from them to create a twilight entertaining zone.)
Make A Good First Impression
Whether it marks the entry to your home, connects one zone to the next, or puts the finishing touch on your enclosed garden, a custom vinyl gate can be a showstopping garden feature all on its own, like lattice gate with a Chippendale Topper. In other words, if you're thinking of a garden gate as a matter of function, you're missing the big picture.
Passing through a garden gate is like walking into a secret, hidden world. The entrance to your garden is the very first thing visitors will notice, sparking curiosity as to what might be around the corner. Garden gates roll out the welcome mat in a way no ordinary pathway can. Often draped with rambling wisteria, colorful clematis or fragrant climbing roses, your garden gate can create a dramatic focal point. And, with your ability to choose a custom vinyl gate that reflects your personal style, you can create a bespoke design to mark the entry of your garden.
Define your backyard garden in style. Designing a cottage garden? A spindle top arbor with a lattice gate brings oh so much charm. Allow roses or vines to climb up your lattice gate for an enchanting and fairy tale like entry.
Or are is your style more traditional? An entry gate flanked by tidy white pickets is as classically American as apple pie. Add in some swoon-worthy swaths of blooms and a charming arbor and you will be beckoning your guests to come in and stay while.
Create An Exceptional Enclosed Garden with Walpole
Whether you need to enclose a backyard, conceal a side yard space, or connect two garden rooms, make your outdoor space unforgettable by adding a custom vinyl gate. Created with both aesthetics and durability in mind, Walpole gates not only secure a property's perimeter but also enhance its appearance. With an extensive range of gate styles to complement a variety of AZEK fences, from formal to rustic, antique reproduction to contemporary, your Walpole gate, made of beautiful, low-maintenance solid cellular PVC, can be customized to almost any height and width.
At Walpole Outdoors, we've been helping families create exceptional outdoor spaces since 1933. Thinking about enclosing your garden with custom fencing, gates, lattices, or other premium products? Walpole Outdoors can help make that dream a reality.
Contact us today to schedule your free professional design consultation and get your garden project underway.