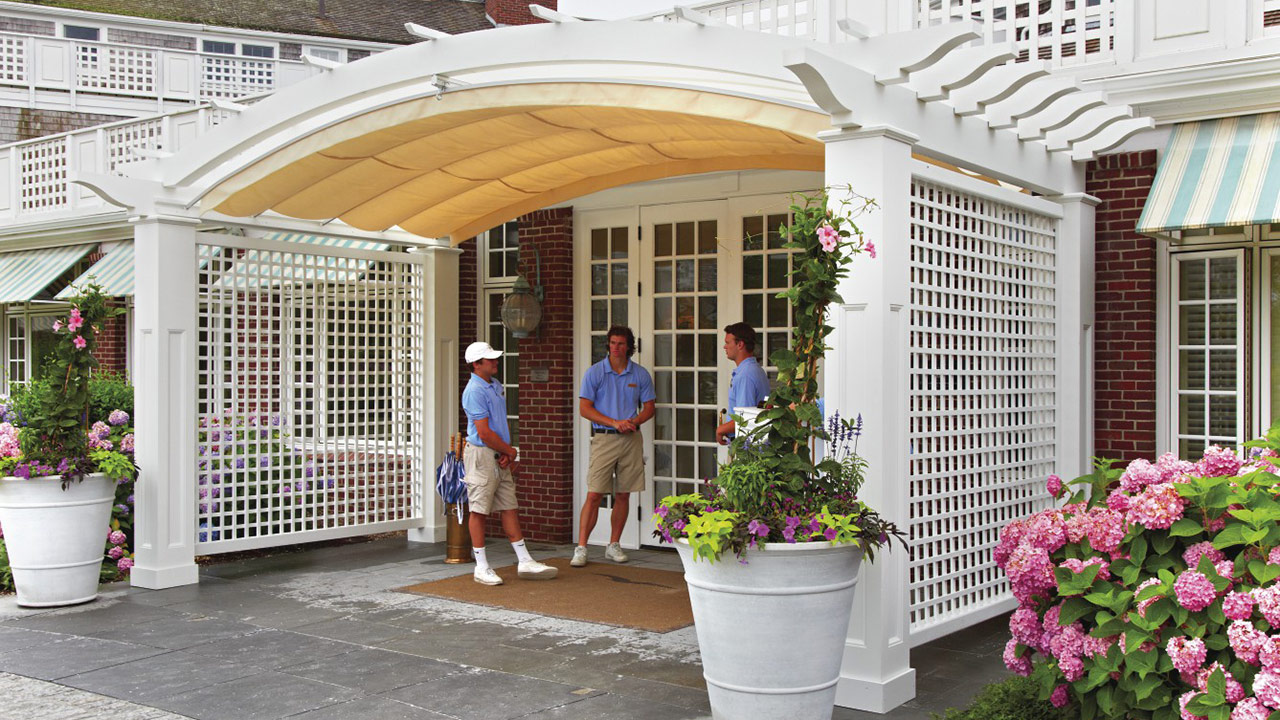 Small Upgrade, Big Impact: Enhance Your Building Façade
---
You never get a second chance to make a first impression, right? 
Actually, when it comes to the façade of your office building, the entryway to your business, or the outside view of any commercial facility, you get chances to make a great first impression all the time. The upgrades and improvements you make to the "face" of your business can be as involved as a complete architectural remodeling, as simple as adding a splash of life and color with a few well-placed vinyl flower boxes outside your entrance, or as versatile as using lattice panels to add texture and visual interest to newly built or existing outdoor structures. 
Some of the most effective steps you can take to give your building façade a livelier, more inviting look are also among the least expensive, with minimal installation time required. If you're not considering some of the easy, impactful projects discussed below, you're missing out on an opportunity for your business property to make that all-important first impression.
A Distinctive Touch of Texture: Lattice
Airy but architectural, sophisticated but simple – Lattice panels are a versatile element for beautifying your property. Whether made of metal or solid cellular vinyl, custom lattice panel placement (or even creative use of simple lattice kits) can add visual interest to any surface or area, enhance an entrance as part of a pergola, pagoda, or breezeway, and to tie together your entire outdoor appearance. Best of all, lattices are generally an inexpensive option to incorporate into your exterior projects. 
Lattice panels can be easily and strikingly used as dividers between areas in an outdoor space, as side-sections of an outdoor enclosure or canopied structure, or even as decorative and functional fencing. This let air and light flow through an area, giving it structure and an inviting and warm feeling. Custom lattice panel designs can complement your existing architecture, striking just the right balance between heavy solid panels and the emptiness of having no panels in place. 
Lattice can also be applied over an existing surface, for a variety of effects. A simple lattice panel set on a wall (especially with live or artificial greenery attached) brings a warm, organic look to otherwise stark or dull outdoor surface. Custom lattice panel coverings over windows and archways create privacy and shade without completely blocking the view from inside. Selectively placing the same pattern of lattice at multiple places of a building exterior (such as window or shutter lattice kits, on balcony railings, or along the building foundation) can create a pleasing sense of design unity. Many buildings even achieve a totally new, sophisticated look by covering their entire façade in custom lattice panel structures. 
Check out some of the stylish sample project images in this article for ideas on how to incorporate premade or custom lattice panel components into your building exterior!
Gardens That Go Anywhere: Flower Boxes
The outside of way too many commercial properties looks and feels cold, drab, and impersonal on even the brightest of days. Luckily, the most reliable way to liven up any outdoor space is also one of the easiest: add some live greenery and floral color! 
While some commercial properties may opt for building and maintaining raised flower beds or having expensive, fragile concrete planters placed at their entrance or by an outside dining area, there's better solution. Solid cellular vinyl flower boxes have the look and feel of real wood, but they are durable and low maintenance, keeping their structure and color for decades. 
Available in a range of premade sizes, these versatile vinyl planters can also be custom-made to complement your building's architecture and painted to match fencing, signage, or even any beautiful lattice panels you might also be adding. 
Be sure to select plants that will thrive in the amount of sun, wind, and other environmental factors that their placement will give them. If you're selecting climbing plants or ones that require frequent pruning, make sure to keep them regularly tended. Talk to the landscape architect or other professionals about the best choices for both appearance and practicality.