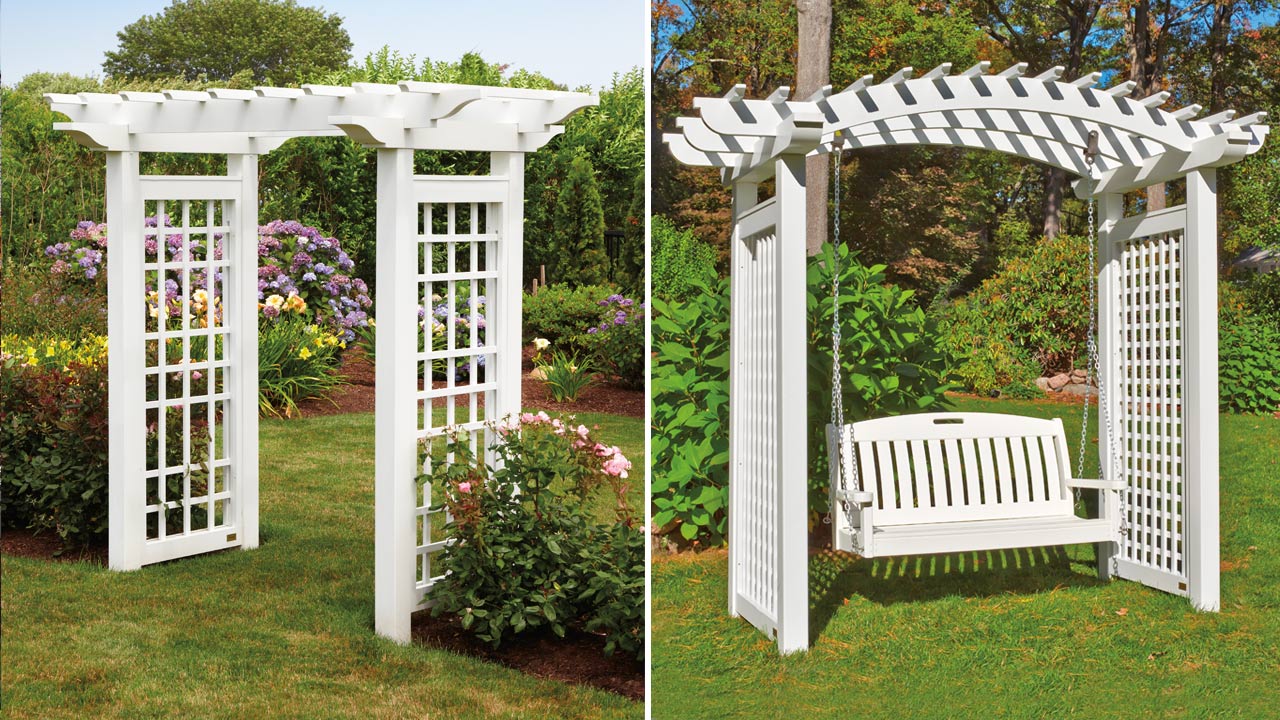 Enhance Your Entryway With An Arbor
---
Outdoor structures are an easy way to enhance the natural beauty of your home or garden, enhance your landscaping and create an inviting atmosphere. A structure also serves as a visual focal point that can really add a boost to your home's curb appeal and be the basis for an area of visual interest you can build upon. Though all structures accomplish this none do so quite as easily as a classic arbor. Arbors can be used along with fencing and gates, hedges and perimeter landscaping, footpaths, or just by itself to establish an entryway to a garden area. The structures are versatile and have a simple elegance. Choose a graceful arch top or a flat pergola top with or without lattice panels. One of the best things about an arbor is it's simplicity. Here are a few standard arbor designs that can fit into virtually any outdoor area...
Plantation Arbor
With its handsome good looks, the Plantation Arbor is always an inviting attraction, no matter where it is located in the garden. It measures 6-feet wide with 4-inch square vinyl posts and three sturdy carrying beams. The horizontal/vertical lattice side panels are 6-feet high with 2-inch openings. Sold with our comfortable 4-foot Hyannis porch swing which is crafted from low maintenance recycled material. This wide arbor looks great with a swing or just to frame a larger entryway. Utilize the lattice panels and pergola style top to grow vertically!
Standard Spindle Top Arbor
If your vision for an arbor includes a graceful arch the Standard Spindle Top Arbor is your best bet. This arbor is the classic look that many homeowners envision for their homes. The arched top is flanked by two lattice side panels that compliment any style fencing and can be used as an anchor to climbing plants of any variety. This design looks great with a fence and gate but can also be a great addition to a stone or gravel footpath to create a little bit of whimsy. Crafted in AZEK cellular PVC with 4-inch square posts with 3 1/2 inch square arch. 5-foot high horizontal/vertical lattice side panels with 38-inch depth.
Standard Garden Arbor
Walpole arbors make a grand entrance no matter the architecture of your home or where you choose to locate them. Our standard 6-foot wide Garden Arbor has 4-inch square posts, and a 4-inch square decorative carrying beam. The impressive pergola-style top is complemented by horizontal/vertical lattice side panels. The Garden arbor is handcrafted in low maintenance AZEK cellular PVC. This advanced vinyl has the weight and look of natural wood, yet it won't rot, warp, or crack, and will hold its pristine looks for years with little-to-no effort required. While we offer a wide selection of standard arbors, we will work with your ideas to create the perfect customized structure to meet your location, taste, and needs. Our arbors are factory pre-painted so there no mess during installation.