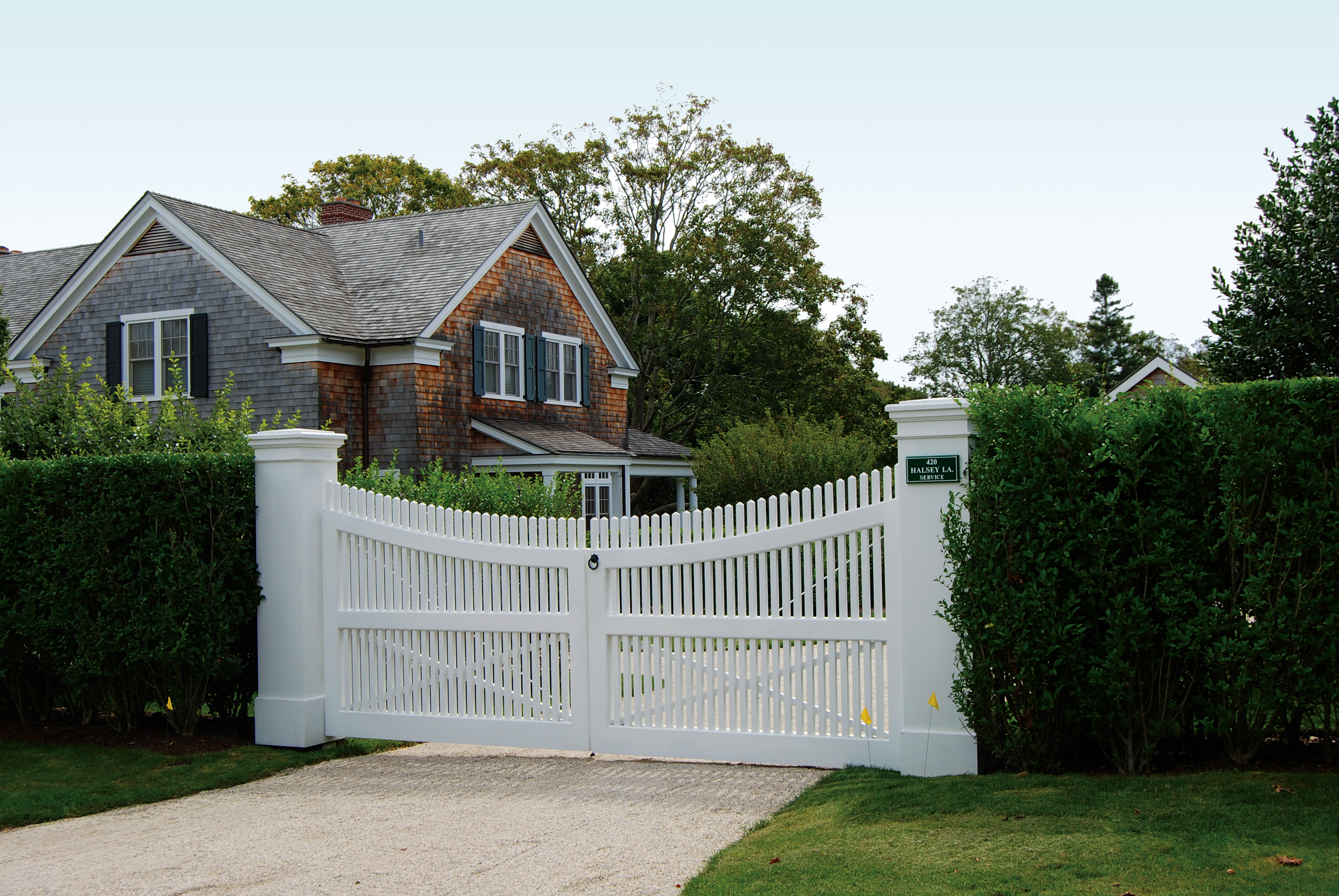 Driveway Gates - The First Impression of Your Home
---
When you envision your home's entryway, quite often the front door is viewed as the centerpiece. And you wouldn't be wrong. But there is one thing that makes an arguably better first impression than any other exterior feature of your home. The driveway gate. The driveway gate is a versatile element that rolls out the proverbial welcome mat in a way no other feature can. A well-designed custom driveway gate serves as a statement of your home's style, and better yet, it leaves a first impression that lasts. 
A well-balanced blend of functionality and aesthetics, properly chosen and installed driveway gates draw immediate attention to your home, seamlessly blending with the natural design and flow of the property. The gateway to your home and one of the defining factors of your curb appeal, these gates serve a dual purpose: they're visually pleasing and provide added security and privacy for your property.
Depending on your home's architectural style and landscaping, consider both your aesthetic and utilitarian goals for your driveway gate. Likely, they will work hand-in-hand to meet all of your gate criteria. Are you fond of traditional scalloped swing gates? Or perhaps you're drawn to double gates outfitted with pillars, lanterns, and gate arbors. Size, scale, function, and style are all equal players in the gate-making game.
Size, Shape, and Function
Generally, the width of the driveway gate can be determined by the width of the driveway itself, taking into consideration any existing perimeter whether fencing or a natural privacy border are already in place. The height, however, can be entirely determined by you. Taller driveway gates offer a dramatic entrance, often incorporated into stately manors or grand estates. Shorter gates interfere less with the view in and out of the property. What's a good rule of thumb? Your driveway gate height should be proportional to the width of the driveway.
To slide or to swing, that is the question. Functionally, gates open in one of two ways. When most people think of gorgeous, statement-worthy driveway gates they typically picture the traditional swinging gate. Swinging gates are found everywhere from residential driveways to industrial properties. Secured with traditional latches or via an electronic keypad or remote opener, swinging gates are low maintenance, elegant, and durable. Sliding gates open and close like you'd imagine: sliding from side to side becoming fully "tucked away" when open. Gates that slide open work best if you're short on space or have a narrower driveway. They afford the same elegance and security of a swing gate without the need for a wide arc's worth of space to open. 
And finally, there's the shape. With an incredible range of styles and materials Walpole can craft a custom driveway gate to meet your style. Whether you see your custom driveway gate as an extension of your home or consider it an entirely separate utilitarian feature, you have almost infinite possibility when it comes to driveway gate styles. And we're not just talking materials. Gravitate toward graceful arches or clean, streamlined edges? Classic or contemporary? Rustic or refined? Luckily, there's a gate for you.
Sleek and streamlined, this custom driveway gate features clean, horizontal lines with minimalistic hinges in keeping with contemporary style of this home. Contemporary driveway gates can be custom fabricated with AZEK, metal, or wood and then painted in one of more than 100 choices in Sherwin-Williams VinylSafe colors, guaranteed to be safe from cracking, peeling, and blistering for 25 years.
Classic and elegant, this custom driveway gate features smooth straight lines and gentle curves, offering a glimpse of your home. Driveway gate designs often feature a a curved top edge – whether arched or scalloped. Here, a Chestnut Hill Driveway Gate offers sophistication, security, and style with a scalloped top edge and handcrafted recessed panels.
Taking inspiration from another era, historical driveway gates can create a sense of time and place to your property. Keeping in period of your home, Walpole can craft a custom driveway gate to complement your historical property seamlessly and effortlessly—whether you'd like it to look like a gate from an old world-y estate or from a 19th Century Georgian Colonial, as seen in this property.
It's all in the details.
After form and function come the flourishes to your custom driveway gate. Embellishments like gate arbors, custom vinyl pergolas and the other intricate design elements can enhance your gate in a big way. Finials and cutouts offer an interesting architectural detail while inlays and hinges put the finishing touches on your new custom gate. Here, a handsome Walpole Convex Entrance Gate flanked by square paneled pillar posts with dentil detailing and Walpole Urn finial not only functional but impressive.
Flanking either side of this Chippendale gate are two lantern-topped pillars that seamlessly connect the driveway gate to the natural privacy hedging framing the property.
With a range of custom vinyl pergolas and gate arbors, Walpole offers many gates that can be tailored to your home's architecture and existing landscaping – no matter your stylistic preference. Custom touches like elaborate light fixtures, stately pillars, or custom vinyl pergolas can be integrated to enhance the overall design of your driveway gate.
At Walpole Outdoors, we've been helping families create exceptional outdoor structures since 1933. As are the leading designers, fabricators, and installers of the highest quality gates, fencing, gate arbors, and custom vinyl pergolas, we can help you make a lasting first impression with a custom driveway gate. To ensure that your finished product lives up to your expectations, driveway gate and pergola projects require expert design advice, meticulous measurements, and professional installation. Look for a partner who can provide all three. From consultation to concept to completion, you and your property deserve the best. Call us to schedule a free measurement and design consultation of your property, so we can start planning right now for your next project.