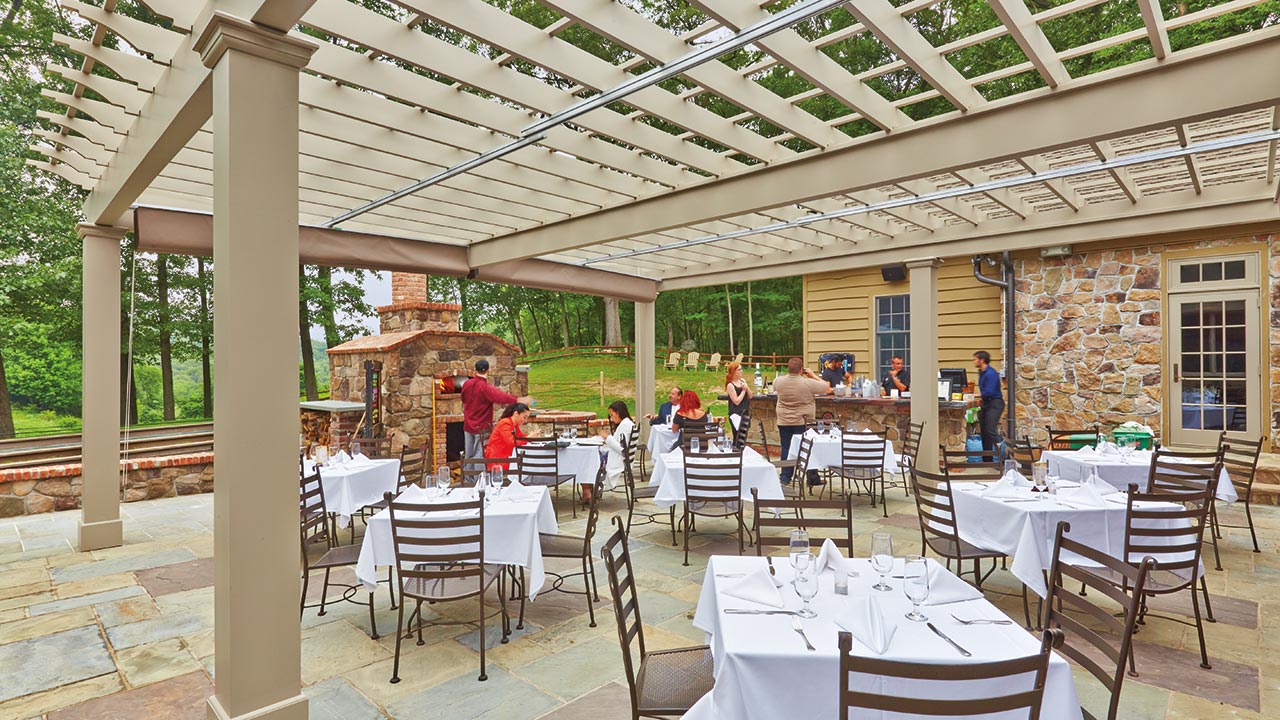 Dining Out: How Commercial Pergolas Elevate Your Outdoor Dining Experience
---
Dining al fresco has always been an alluring prospect. Sitting outside, sipping a cocktail, and savoring a bite to eat is like a mini-holiday, whether you're basking in the daytime sun or under the evening stars. Considering the average American spends 90% of their time indoors*, it should come as no surprise that al fresco, which loosely translates to "in the cool air", is so enticing. Adding aesthetically pleasing outdoor dining spaces with commercial pergolas can be a game-changer when it comes to your restaurant's appeal. 
More importantly, outdoor pergolas can help keep customers feel both comfortable and safe year-round. While we've all been affected by the pandemic, few businesses have bit hit quite as hard as the restaurant industry. Between shutdowns, reduced-capacity protocols, and germ-leery customers, it's been an uphill battle for restaurateurs, to say the least. While establishments with outdoor seating (permanent or makeshift) caught a bit of a respite during the warmer months, luring diners outside year-round is challenging. If you're considering ways in which to keep your patio open, here are a few reasons to add commercial pergolas to your plans.
Expand Your Dining Room, Increase Your Profits
Outdoor pergolas, like the AZEK pergola pictured above, allow you to define a separate dining space outside, increasing your seating options (e.g., giving your customers a choice), as well as your overall seating capacity. When designed and installed by professionals, the right outdoor dining space can also make up for limited capacity and draw customers that might prefer not to share an indoor space. 
Enticement Beyond Cuisine
While food is the star of the show, the ambiance is integral to an overall dining experience. Commercial pergolas can transform your outdoor space into an enticing sanctuary. Whether freestanding or attached, outdoor pergolas are easily customizable, making it easy to turn even the most uninspired patio into a dining oasis. And when paired with a vinyl arbor, you can create an alternate entrance that will beckon passersby.
Another point to consider: in an increasingly visual digital world, the more your establishment creates an appealing aesthetic, the higher the likelihood of social sharing on the part of your customers, taking your word-of-mouth marketing to a new level. 
Smart Investment Over Temporary Solutions
Expanding your outdoor dining in any way has obvious and immediate financial benefits, but in a world that's become used to post-pandemic life, makeshift outdoor setups can't compete with long-term design solutions. If you are going to invest in commercial pergolas, make sure they'll last. A Walpole AZEK pergola is made of low-maintenance cellular PVC—it looks just like wood, but won't warp, rot, chip, or crack over time. That means lasting beauty and a return on your investment. 
Optional Shade Control
Enhancing your pergola with a retractable screen and/or canopy ensures that neither the sun nor the rain can close your patio for the day. Canopies can be motorized or mechanically operated—either option helps provide sun and rain protection. Retractable screens offer a more private experience and help reduce heat and glare—especially when the sun starts to go down. 
Fully Customizable 
Commercial pergolas from Walpole are fully customizable. Whether you choose a cedar or AZEK pergola, a freestanding, attached, or custom model, our structures are available in a variety of Sherwin-Williams colors for a design that truly fits your space  
Beyond Commercial Pergolas: Other Elements to Consider
 While a pergola is easily the focal point, here are a few other elements to consider when creating your outdoor design space:
A heat source.

Whether freestanding gas heaters, a gas firepit, electric heaters, or an outdoor fireplace, depending on your location and time of year, a heating element may be necessary. 

An outdoor lounge.

For casual cocktails and bites, an outdoor lounge is a welcome addition for waiting guests. For year-round use, have a dedicated heating element here. 

A vinyl arbor.

Beautiful and practical, a vinyl arbor can serve as a side entry, a structure for climbing vines, or a way to guide traffic flow.

Lattice or privacy screens.

Lattice can add texture to bare walls, create charming enclosures, and obstruct any unwanted views. 

Lighting.

Whether you choose string lights, sconces, freestanding lights, or a mix of all three, the right light should add warmth and beauty without overpowering diners.
If you're considering taking your outdoor dining space to the next level, talk to Walpole. Incredible outdoor spaces are our specialty. From classic to contemporary and everything in between, our extensive line of hand-crafted outdoor structures offer beauty and distinction your business will enjoy for years to come. Our team of designers is available now to schedule a free measurement and design consultation of your property, so you can get your outdoor project underway! 
*According to a report by the EPA