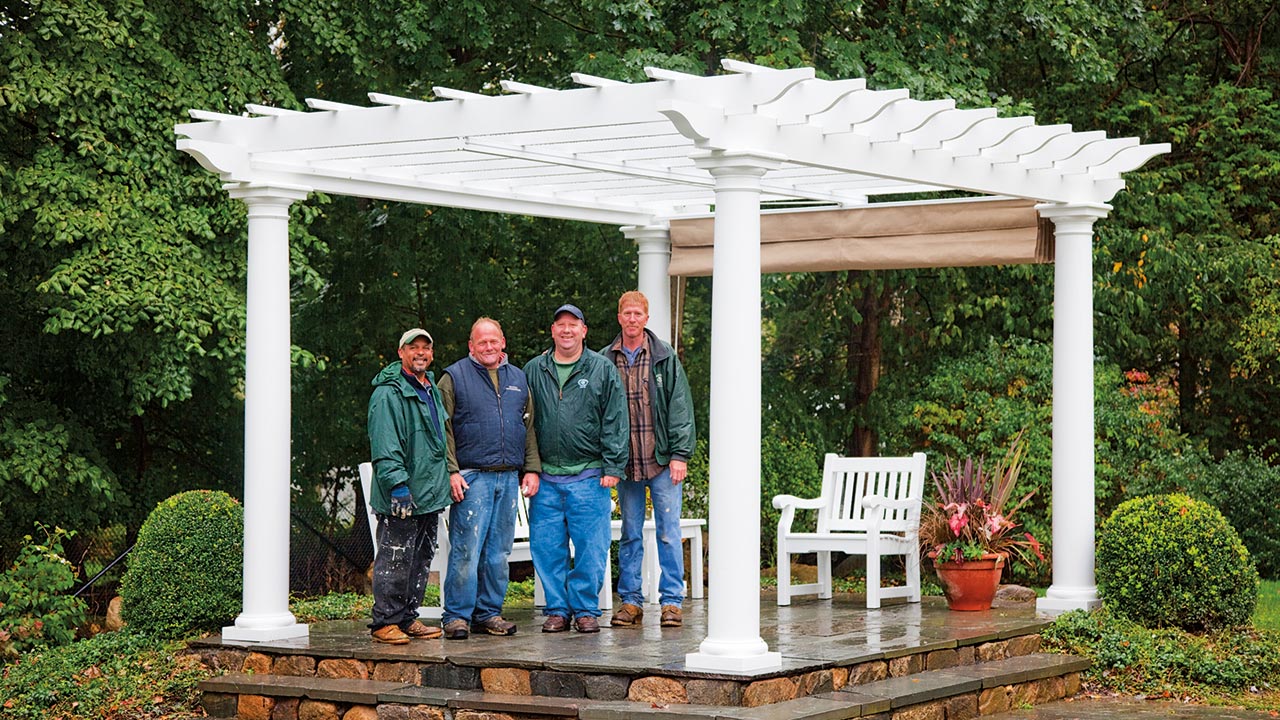 Design an Outdoor Space with Confidence: Working with Pros to Bring Your Vision to Life
---
Congratulations! You've decided to move ahead to make your home's outdoor spaces just as lovely and inviting as your home's interior spaces. You couldn't have picked a better time — especially when you consider it will make for a more enhanced experience for you, your loved ones, and guests. You may have put together detailed sketches, or a dream board with a couple of ideas. You might know you want a specific structure or product, like AZEK fencing, or a garden arbor. Maybe you want to focus on increasing the value of your property. Or you may need help to know exactly what you want.
Whatever plans and ideas you may have, the best way to start is just that: start.
Trust your professional's expertise
Depending on the project, sit down with your architect or landscape designer. They are the experts. Begin to set your goals with confidence. Know that their expert guidance in working with you and utilizing only quality components and materials will allow you to achieve whatever you have in mind. You don't have to settle.
Welcoming guests in a style all your own
One of the most popular renovation and remodeling projects homeowners can focus on is a home's curb appeal. It's an area in which homeowners almost always fully realize the effort and investment they put into it.
What does your home say about you? What do you want it to say?  Why not make a statement. Your design pros can help. Choose to create or update and upgrade your home's entrance with stylish driveway gates, gate arbors, and vinyl arbors. All have the potential to turn mediocre landscapes into head-turning outdoor spaces.
Your design professionals are knowledgeable when it comes to the many possibilities available to you. Trust them to listen to your ideas and work with you in choosing the best options, such as lattice fence and vinyl arbors, to bring out your home's best features and exterior landscaping.
Choose a style that fits your personality. Love trailing wisteria or a heavenly-scented, red rambling rose? Nothing is sweeter on a gate arbor, especially with the addition of lattice fence in a variety of designs. You can create a look that is warm and friendly; fashionable yet understated. Talk with your design creatives so they can better assist in your vision.
You may decide to go with a dramatic sweeping driveway entryway. Your design expert can help you to select elegant, contemporary, or country casual looks with AZEK vinyl, metal, and wood combinations to make your home stand out. Your design pros can help you to choose handcrafted, quality structures including custom vinyl arbors and gate arbors with spindle-tops, elliptical arches, lattice fence or a combination — then add seating. The look of vinyl arbors and lattice gates are complementary to one another.
Continue with one of myriad AZEK fencing styles and designs to finish the look. Select a stylish wall-mounted, English lattice or Old Lyme fence that gives you privacy but at the same time presents with an airy and fresh look.
Updating and Respecting History
Historical homes, in coastal or city settings, often have a limited-but-lovely palette of choices in lattice fencing and gate arbors with decorative design details. This is where your design pros can demonstrate how to carry through detailing in hardware, paints, and stains in order to match the period of the home and stay within traditional options.
Thinking Big
Step up your outdoor landscape remodel around the whole house—for your main residence or vacation home. Your landscape experts can show you how. If you have your heart set on creating a welcoming family-friendly outdoor space that serves as the perfect entertaining space, your designer may suggest bringing in distinctive architectural detailing elements. This can include lattice decorative panels such as Westbury Lattice Copper Cap. You can also choose quality AZEK fencing. Among the ­­­­­offerings are traditional board fence, with trellis features to separate outdoor "rooms" or punctuate boundary lines; custom pool and architectural AZEK fencing can also be worked into your vision.  
Is AZEK right for your project?
As your architect or landscape pro can tell you, AZEK products and structures are dependable as well as beautiful, when crafted by the best manufacturers. They are engineered to repel mold, resist weathering, and combat warping. AZEK gates, fences, and arbors are practical choices. Incorporate them into your design for years of worry-free enjoyment.
Does your pro have the right partners?
Walpole Outdoors are the leading designers, fabricators, and installers of the highest quality AZEK fencing and other premium products. We offer a wide array of classical, contemporary, and fully customized design options with signature Walpole quality fencing, driveway gates, and arbors with gates. Walpole specializes in collaborating with homeowners and design professionals to create the most amazing outdoor spaces for the most discerning homeowners.
The Walpole Outdoors team works seamlessly with your architect or designer, through the entire conceptual and manufacturing process. Walpole Outdoors professionals have years of experience and are ready to schedule a free m­­­easurement and consultation of your property right away, so you can begin to create the perfect home for your family that you can enjoy for years to come.
We welcome working with clients and their architects and designers to bring you the best results for your project, no matter how big or how small. Our expert staff would be happy to assist you today.