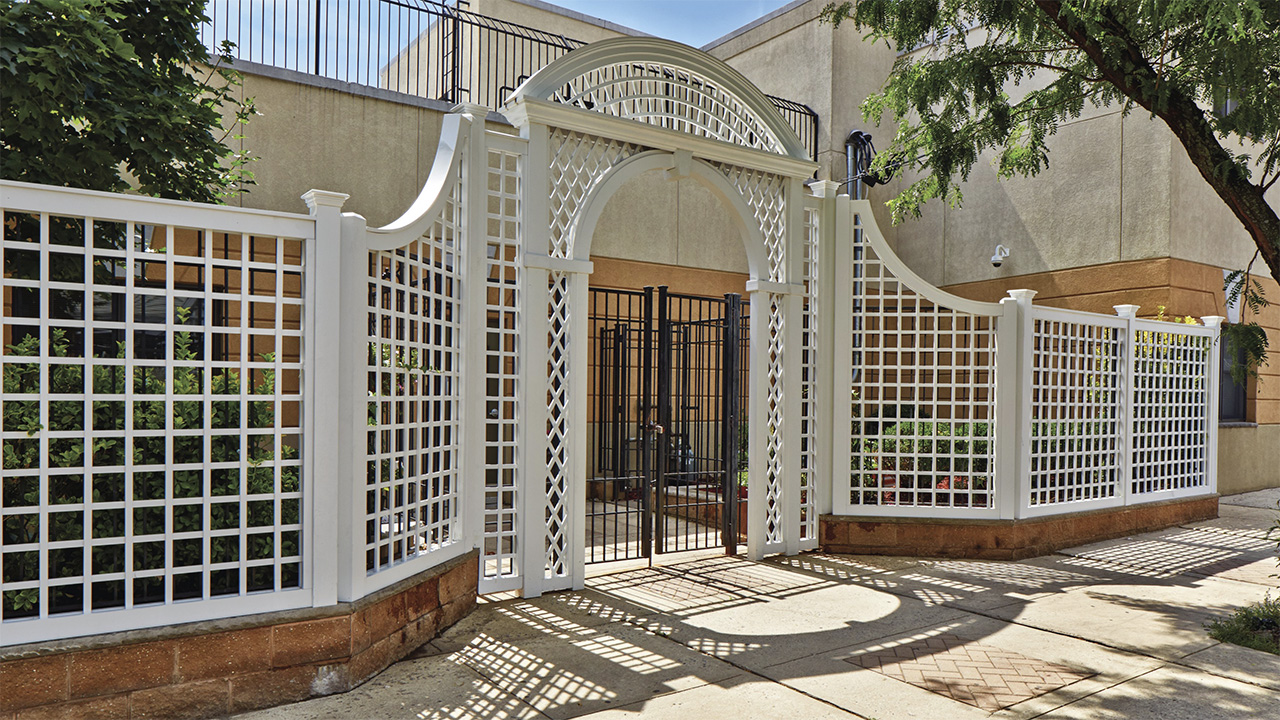 Define Your Office or Business Property with a Distinctive Perimeter
---
In the increasingly competitive world of business, where a single negative review or less-than-perfect experience can send prospective customers (and their dollars) elsewhere, making a good first impression couldn't be more important. Influencing the way people decide where to eat, what stores to shop at and what neighborhoods to drive through, first impressions – good or bad – are everything.
Making improvements to your business facade can up your foot traffic, improve your customer reviews, and increase the value of your business without necessarily breaking your budget. And investing in the exterior of your property will result with big returns on (you guessed it) the first impression.
Where to Begin?
Welcome guests with a grand entranceway, create a perimeter of privacy, or add an elegant border with a distinctive perimeter. As versatile as it is durable, a fence crafted from AZEK solid cellular PVC (an environmentally friendly synthetic material) is low maintenance, made to last, and completely customizable. Surrounding lush landscapes and large estates, pools, townhouses, or apartment communities, such fences are frequently used in residential projects. But it's a good idea to consider an AZEK fence when thinking about ways to define your commercial property. Incorporate a board gate for a fantastic way to enhance curb appeal or the entrance to your building's outdoor enclosed areas. Whether painted crisp white or in designer colors, custom board gates and fences at your place of business can be the very first things that visitors notice. Tell the story of your brand by giving your property a look that matches the quality of your products or services with a custom fence and board gate.
Classic designs with lasting, low-maintenance components makes Walpole Outdoors fences the first choice for businesses all over the country. With more than 40 different fencing styles, Walpole will collaborate with landscape architects to fully realize the vision for a property's exterior, whether you're looking for a charming Nantucket-inspired picket fence or the ultimate "green" privacy fence. Many landscape architects, architects, and builders choose Walpole specifically for projects that require distinctive, quality presentations, like this nautical post-and-rope fencing style.
After selecting your fence, all that's left is deciding on the perfect gate. Defining this charming outdoor seating area at an ice cream shop, the owner chose a magnificent custom scalloped-topped double gate with matching Victorian lattice side panels partly housed atop a short brick wall. Walpole offers custom vinyl gates in nearly every shape and size imaginable to create a unique and memorable entry.
Fencing Provides Privacy and Security
A well-designed fence provides more than just privacy to a business—it can supply a sense of security, too. Walpole board fences stand tall at apartment complexes, senior living centers, and universities providing both privacy and security for residents and visitors. Superior quality fencing can help protect outdoor storage areas, offering business owners peace of mind. A distinctive perimeter fence can make for an effective entry deterrent but should be no less attractive than it is substantial. For example, this Chesapeake fence painted in a pewter hue offers privacy and security and is easy on the eyes. Or, this New York City Custom Privacy Lattice Fence stand seven feet tall creates a private oasis in the middle of a busy metropolis. Walpole is adept at incorporating custom vinyl gates seamlessly into a substantial privacy fence. This 6-feet high Chesapeake fence and entranceway secure a business area while allowing easy access. 
Incorporating Outdoor Space in The Work Environment
When thinking about any upgrades or improvements to make at your business this upcoming season, consider ways to use fencing to seamlessly integrate an outdoor space for breaks, meals, and outdoor meetings into the work environment.
Recent studies suggest that spending time in nature can result in improved creativity and problem solving, increased focus, and increased happiness. Each of these can dramatically influence overall employee engagement, retention, and productivity.
In fact, according to a 2018 survey completed by outdoor product retailer L.L. Bean, United States workers between the ages of 22 and 65 spend approximately 95 percent of their time indoors, with 87 percent identifying as outdoor enthusiasts. Outdoor work areas can not only provide open space for your employees, but also allow them to get that much-needed breath of fresh benefitting both cognitive functions and overall well-being.
Creating a terrace – large or small – with a custom AZEK fence allows employees to take calls or host private meetings, get some sun or just enjoy a few meditative moments during the workday. Well planned spaces delineated by an AZEK fence can offer adequate distance between movable seating configurations allowing for different groups to utilize the terrace simultaneously. 
Even if retrofitting your current workspace to include an outdoor terrace, courtyard or deck is not an easy option, you might consider delineating an outdoor common space, simply created with an AZEK fence to enclose a section of sidewalk, alley space, or open ground adjacent to your building. The benefits of spending work hours outdoors include better productivity, improved focus, enhanced creativity, and even improved health and wellbeing for your employees.
Already have a designated outdoor space at your business? Custom lattice fences can enhance your courtyard, patio or deck with a simple yet elegant architectural feature, instantly adding­­­ visual interest and tying together your entire outdoor appearance. Made of metal or AZEK solid cellular vinyl, lattice fences (or simple lattice kits) are generally an inexpensive option to incorporate into your business' exterior projects. And, with so many styles and colors to choose from, Walpole's custom lattice fences outfitted with custom vinyl gates can complement your already existing architecture. 
Use lattice fences as dividers between areas in your outdoor space, creating individual seating pods that allow for safe distancing. Throw up some umbrellas to provide ample shade, ensuring that employees stay comfortable during extended periods of outdoor time. Lattice fences will allow air and light filter through, offering an inviting and warm ambiance and, once again, encourage the use of your business' outdoor area.
If you're ready to define the perimeter and character of your place of business, Walpole can develop a solution that matches your needs and makes an amazing impression on your employees, customers, and visitors. Discover the difference quality craftsmanship and impeccable design make. Discover Walpole Outdoors today.