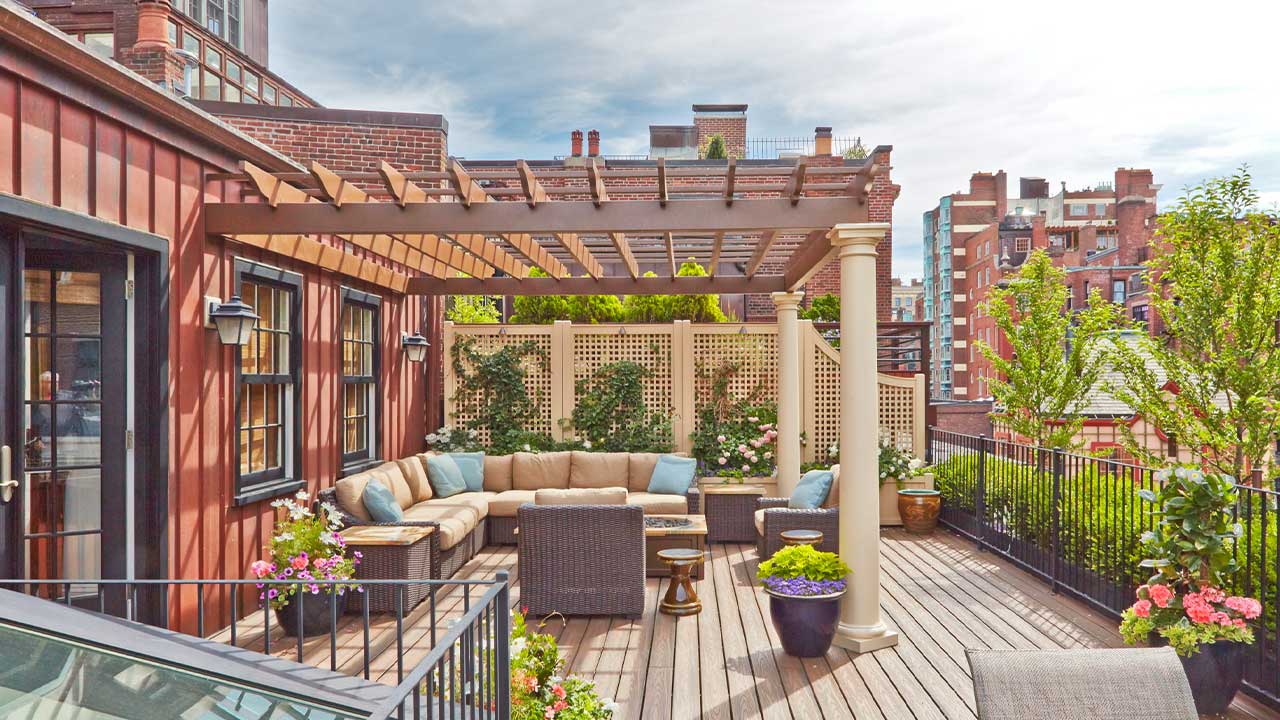 Roofscaping: 5 Top Ways Businesses Are Using Roof Spaces.
---
During an era when the experience is everything, rooftops are certainly an elevated draw. And it's no wonder why. Rooftop areas have been on the rise in recent years as sought-after spaces for bars, restaurants, and hotels. As social distancing remained a priority, many outdoor venues have gotten creative over this last year. Rooftop spaces have continued to pop up across the country in the form of dining rooms, gardens, and co-working spaces. And it doesn't look like the trend will be going away. Businesses have found that the sky's the limit when considering the untapped potential of vertical space. 
1. Sky High Workspaces
Rooftop workspaces have been top-of-mind for developers and owners of urban office buildings long before the pandemic. It's a great way to appeal to potential employees - adding a terrace with a vinyl pergola and reimagining once-barren rooftops into parklike settings where workers can unfurl yoga mats, swing in a hammock, or simply work amid more pleasant surroundings. Lengthening the workspace tether was certainly a logical next step in the evolution of flexible offices this last year. Now, with the return to the workspace in full swing. Installing AZEK fencing to define a rooftop workspace creates a private, purposeful space for employees. A vinyl pergola can offer shade in the heat of summer allowing your employees to relax, eat lunch, and meet with co-workers. And integrating a few low-maintenance AZEK planter boxes transforms a rooftop space from meh to memorable.
2. Offer a Taste of the High Life
Rooftop bars might have once seemed like a novelty. Common in places like New York, Las Vegas, and Chicago, rooftop bars have been among the most popular, profitable, and continuously evolving spaces in the food and beverage industry. While rooftop bars in densely populated cities with skyline views might be common, many restaurants are getting into the rooftop game to differentiate themselves among the competition. During a time when adequate ventilation and sufficient room to socially distance has become paramount, alleys, parking lots, and sidewalks have been transformed into usable space. And these trends will likely shape the future bar scene, dominating bar culture for the foreseeable future. If you haven't considered your vertical space, transforming your rooftop can work to your advantage, diversifying revenue streams and providing safe, convenient methods for socialization. Consider vinyl pergolas and custom lattice panels integrated with lighting and speakers for added ambiance. Or AZEK fencing can create private and intimate lounge spaces within your rooftop bar so your guests can sip a cocktail while remaining outdoors, enjoying an evening in the clouds.
3. Elevate Your Al Fresco Dining 
Rooftops offer an intimate, private setting for dining with sweeping views and an air of exclusivity. Because rooftop terraces naturally offer added ambiance, they invite guests to linger. Creating a space that encourages your guests to sit and stay awhile is a space that offers serious revenue-generating potential. Consider your brand and audience and design your rooftop space around that. To increase usability, consider covering a part of your rooftop space for shading and rain protection with a vinyl pergola. You can integrate swoon-worthy details like fire pits, twinkling lights, sofas, chairs, and conversation areas into your pergola's design. For privacy, AZEK fencing with some custom lattice panels can prove to be a stylish solution for carving out intimate lounge spaces. 
4. Create a Rooftop Garden Oasis
Architectural, multilayered, well-drained and with panoramic views, rooftop gardens are a true surprise & delight space at any workplace or restaurant. Equal parts grit and glam, rooftops and terraces feature all the amenities of a pastoral retreat—outdoor dining spaces, cozy seating areas, planters filled with lush greenery and blooming buds—all from a lofty perch. Imagine wisteria-wrapped vinyl pergolas for both structure and serious charm. Consider AZEK fencing for seclusion. Fill custom AZEK planter boxes with heat-tolerant perennials and shrubs for seasonal interest. And soak in that view. Walpole Outdoors' expansive line of custom vinyl pergolas, AZEK planter boxes and fencing can transform any rooftop into the garden escape you've been dreaming of. 
5. The Rooftop Community Space
There's a new amenity at the top of most tenants' wish lists: The rooftop. Versatile and attractive, rooftop spaces are one of the newest, most coveted amenities to hit the commercial residence market. And it's no wonder why. Rooftops offer a trendy, al fresco atmosphere where residents will want to spend most of their time enjoying skyline views—leading to opportunities for extra revenue and an increased likelihood they will renew their lease. Transform your communal rooftop deck, into something all residents can enjoy while swimming, grilling, or exercising. AZEK fencing and vinyl pergolas outfitted with lattice panels can help create outdoor lounge spaces outfitted with TVs or movie projectors, grilling areas, fire pits, or gardening areas.
Ready to Reimagine Your Rooftop?
Synonymous with quality and innovation and made in America, Walpole Outdoors is an industry leader, that has served the most discerning homeowners and businesses for over 85 years. Rethink your rooftop space and consider the potential for custom AZEK integrations from pergolas to planters. If you're ready to elevate your outdoor space, Walpole Outdoors can develop a solution that matches your needs from consultation to concept to completion.
CONTACT WALPOLE OUTDOORS TODAY!