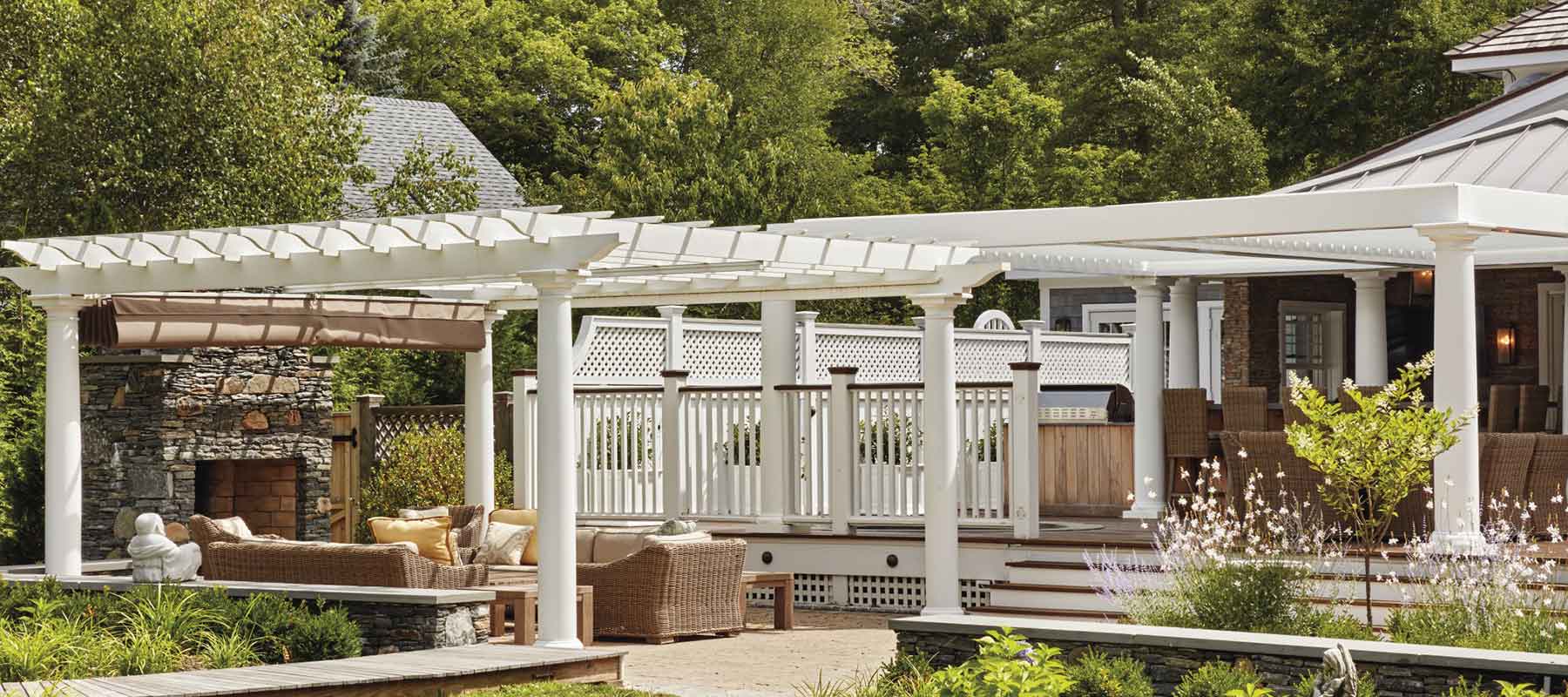 Transforming Commercial Spaces with Custom Pergolas
---
Making improvements to your business facade will undoubtedly boost your foot traffic, improve your customer reviews, and increase the value of your business. Why? It turns out, folks sometimes do judge a book by its cover. Sure, things like customer service, referrals and a great product are equally important fundamentals of operating a successful business. But curb appeal is one of your most valuable marketing tools. Investing in the exterior of your property will result with big returns on the all-important first impression. 
Providing shelter from inclement weather, offering additional seating space, and enhancing your entrance, commercial pergolas are easily one of the most visually appealing ways to level up your outdoor space. And here's how.
Make a Grand Entrance
Attached or freestanding—custom pergolas up your foot traffic, increase the value of your business and improve your customer reviews. For forward-thinking entrepreneurs understanding the need to expand their business's footprint, custom Walpole AZEK pergolas deliver. An attached commercial pergola lends itself as an extension to your business, offering shelter and shade while helping connect your indoor and outdoor spaces. 
Welcome your customers through a grand entranceway with a distinctive pergola. As versatile as it is durable, a commercial pergola crafted from AZEK solid cellular PVC (an environmentally friendly synthetic material) is low maintenance, made to last, and completely customizable. Integrate an impressive pergola with a vinyl arbor like this custom AZEK entryway commercial pergola for a fantastic way to enhance curb appeal framing the entrance of your business. Whether painted crisp white or in a designer shade, the addition of a pergola or vinyl arbor at your place of business can be the very first things that your customers notice.
Considering the addition of an AZEK pergola when thinking about ways to define your commercial property is probably a good idea. Why? Because first impressions – good or bad – are everything. First impressions influence the way people shop, play, and dine. And let's face it – you don't get a second chance to make a good first impression. For instance, this expansive handcrafted custom Gallery Vinyl Arbor makes a striking first impression over its entryway. 
Al Fresco Ambiance
Dining alfresco is a beloved warm-weather tradition. The natural backdrop provides its own ambiance, great views and a festive atmosphere. During the pandemic, even more restaurants introduced sidewalk tables, garden seating, and rooftop bar lounges to attract and keep customers and keep their revenue streams strong. And these smart upgrades will have value for years to come, including acting as "free" advertising, but showing off the outdoor dining experience to passing pedestrians and drivers, turning many into patrons. 
Why not capitalize on the outdoor dining trend by transforming your space with an inviting commercial pergola? The simple addition of a pergola for restaurants or cafes can instantly enhance the outdoor dining experience and invite diners into your establishment.
Custom pergolas can add structure and shelter to transform an unremarkable façade, patio, courtyard, or roof into someplace special that your patrons, your employees, and your bottom line will appreciate.
Imagine your customers stepping outside into a striking outdoor space, complete with a pergola with built-in lighting. With the addition of an artfully designed pergola, you have created the ultimate outside veranda. And it can be replicated anywhere. Rooftop Bar? A pergola with built-in lighting provides creates a backdrop framing the night skyline perfect for snapping shareable pics of your establishment. Diners and bargoers are hungry for more than just what's on your menu: they value experiences they can share in person and on social media. Sidewalk café? A handsome, head-turning attached pergola will pique the interest of anyone driving or walking by your outdoor dining space now imagining sipping a café au lait on your perfect pergola-covered space. 
A Place for Gathering
AZEK pergolas offer a smart expansion of your footprint for all the reasons that your guests, diners, or employees might want more space. When thinking about making any upgrades or improvements this season, consider ways to use AZEK pergolas to create an outdoor space for gathering and socializing. Whether for the overflow of guests, a social gathering or an outdoor meeting space, pergolas can be integrated at most brick-and-mortars, office spaces or private clubs--and the flexibility of design is almost limitless. 
This impressive custom 8-column pergola structure on the campus of Bryant University, Smithfield, Rhode Island creates a focal gathering spot that is both architecturally impactful and inviting. Likewise, this expansive double shade pergola allows members of a private club to enjoy socializing outdoors, sheltered from gentle rain or blazing sunlight. Walpole's Shade canopies can be integrated into your custom commercial pergola design, providing comfort even in harsh sun or a light drizzle. Walpole offers motor-driven or manually operated canopies in a range of colors and to any size, crafted with Sunbrella rain resistant shade canopy fabric in many solids and stripes and in Harbor-Time waterproof fabrics.
If you're ready to transform your commercial space with a custom pergola, Walpole Outdoors can develop a solution to match your needs and make an amazing impression on your employees, customers, and visitors. Discover the difference quality craftsmanship and impeccable design make and schedule your free professional design consultation today.