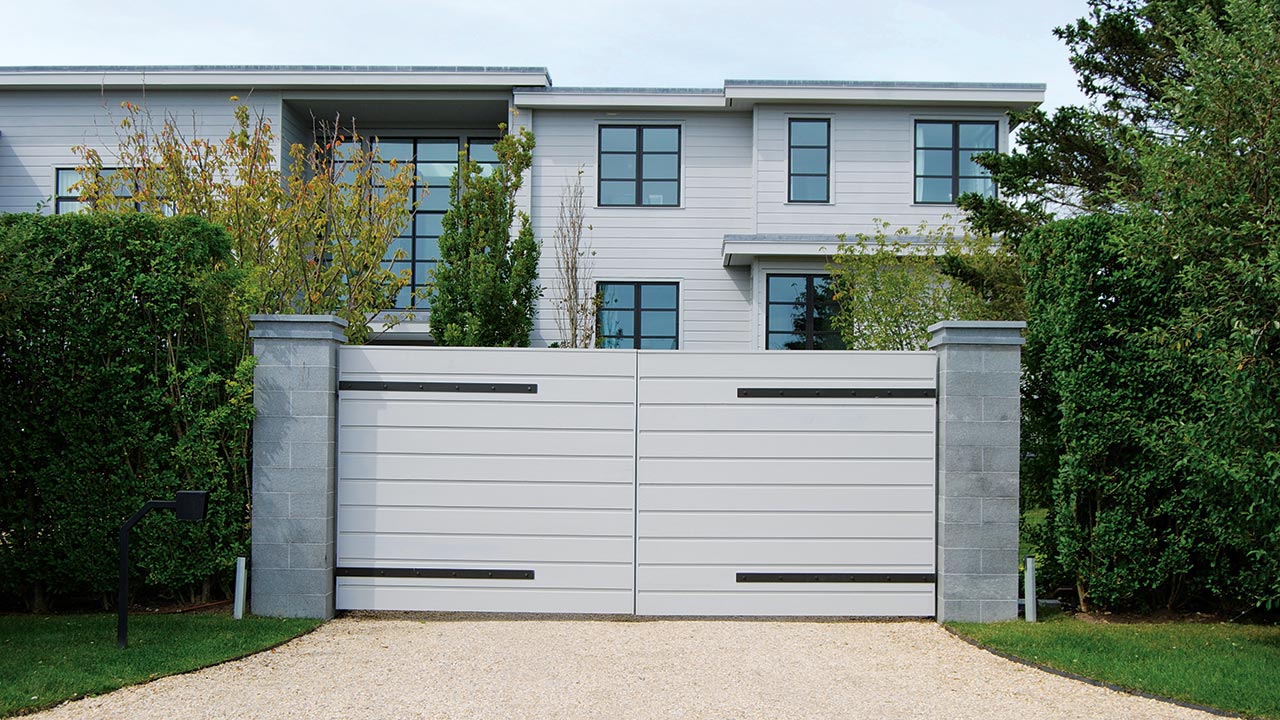 Amazing Approaches Series: Curb Appeal Entryways
---
Our homes represent a reflection of ourselves—where we are from, how we live, our signature styles, even who we are. With that in mind, a home's facade is the most outward expression of those ideals—and the first impression to guests and passersby alike. Whether seen from the street, sidewalk, or moving vehicle, a home's curb appeal (or lack thereof) sets the expectations of the experience and people within. The common thread that sets some homes' curb appeal apart comes down to the details, and with the right ones, the impact of the end result is usually far greater than the sum of its parts. 
If your goal is to elevate your home's approach from simply average to amazing, don't underestimate the power of outdoor entry details—specifically driveway gates and entryway pergolas. Whether you choose a beautiful, prefabricated product or create a unique, custom driveway gate, your options are nearly limitless when it comes to personal style. For a little inspiration, and to get your creative juices flowing, we've compiled a few of our favorites below. 
Driveway Gates
While driveway gates ultimately exist for functional purposes, they're extensions of the home they protect nonetheless. In most cases, they're the very first impression. Tall, sculptured driveway gates add a sense of drama, minimalistic styles add clean lines to modern architecture, and both classic picket and rustic board and rail gates add a finishing touch to colonial and farmhouse homes. To amp up your home's aesthetic, your style choice should blend seamlessly with both your architecture and the flow of your property. 
Photo: https://walpoleoutdoors.com/custom-projects/fences-and-gates/drive-and-pedestrian-gates
This custom driveway gate by Walpole Outdoors blends horizontal and vertical boards, extending the style to the pedestrian gate to its right. Soft green paint picks up the awnings and foliage, while brick posts coordinate with both the home's edifice and driveway pavers. Custom curved hardware adds the final detail for a gate that hints at private courtyard charm within. 
Photo: https://walpoleoutdoors.com/custom-projects/fences-and-gates/chestnut-hill-entrance-gate
Classic pickets enhance the New England styling and keep the home visible, while long, sweeping end curves mimic the rolling landscape in this Walpole Outdoors Chestnut Hill Entrance Gate.
**********************************************
Photo: https://walpoleoutdoors.com/custom-projects/fences-and-gates/universal-driveway-gate-and-fence
The clean lines of this universal board entry gate, made in low-maintenance AZEK cellular PVC, effortlessly blend sophistication with security, making it at home in both classic and contemporary designs. 
********************************************
Photo: https://walpoleoutdoors.com/custom-projects/fences-and-gates/simple-morgan-post-and-rail-gate
This simple Morgan Post & Rail gate brings a dignified, open, and airy look to this country home. 
**********************************************
Photo: https://walpoleoutdoors.com/custom-projects/fences-and-gates/custom-contemporary-entrance-gates
Subtle and sophisticated, this contemporary custom driveway gate is crafted in AZEK and finished in black for muted refinement that highlights the natural landscape and implies an artful experience awaiting within. 
**********************************************
Entryway Pergolas 
Most people consider pergolas a backyard patio or garden feature with good reason. Beautiful and functional, a well-placed pergola is akin to adding an outdoor room to your home. Less considered but equally appealing, custom vinyl pergolas are an excellent way to add allure and interest to the front of your home. Whether used as a portico alternative or to extend your home's porch, an entryway pergola is a simple addition that brings major ROI to your curb appeal. 
Custom vinyl pergolas, like the one above by Walpole Outdoors, add a distinctive presence. An arched line over the front door guides guests in, while the covered seating area invites them to stay.
**********************************************
Photo: https://walpoleoutdoors.com/custom-projects/pergolas-and-arbors/custom-azek-entry-pergola
**********************************************
Your Project Deserves a Great Partner
Looking to up the wow factor of your home? Walpole offers a wide range of custom vinyl pergolas and driveway gates that can be tailored to your personal style and enhance your existing architecture. Our team of designers is available now to schedule a free measurement and design consultation of your property, so no need to wait. Give us a call today!