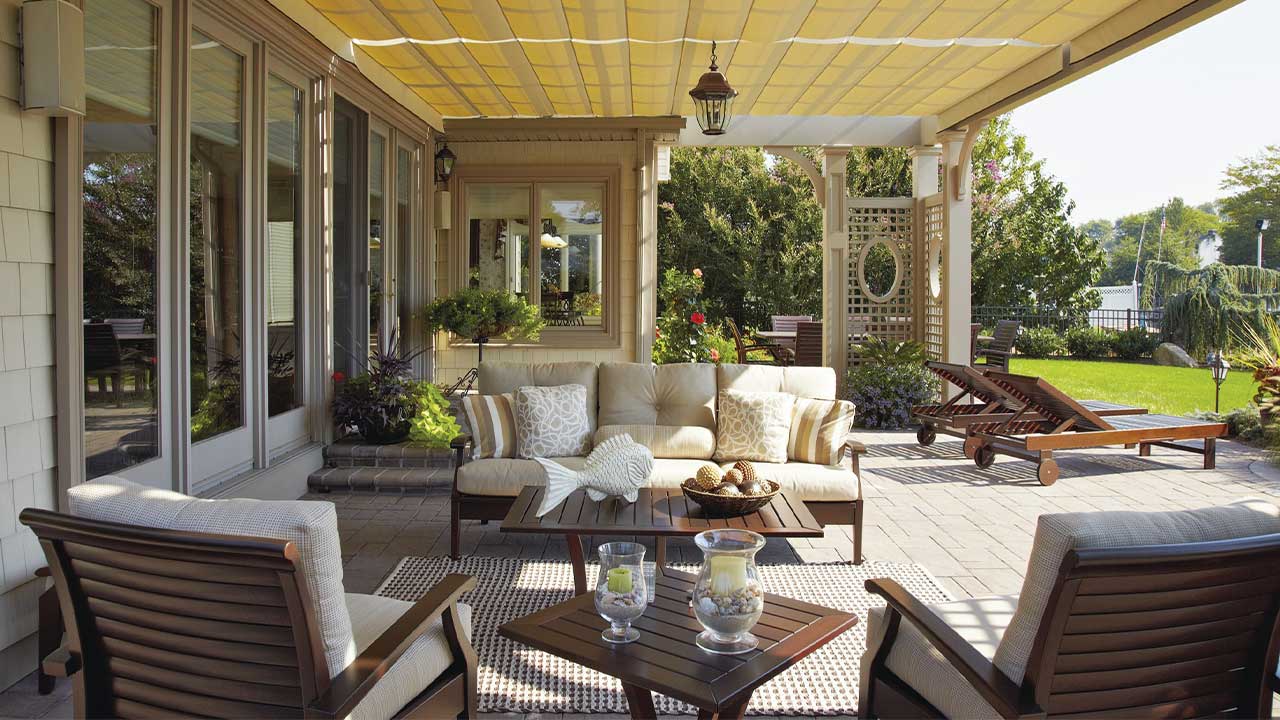 The Perfect Family Room: Creating an Outdoor Space to Play, Dine, and Grow
---
There's no substitute for having a comfortable, pleasant, versatile outdoor space at your home. During the COVID pandemic, families came to appreciate just how important these spaces can be, as they spent more time at home than ever. This summer, create a space for your family to enjoy both fresh air and each other's company when you build the ultimate outdoor family room. 
No matter what the space will be used for, your outdoor family room should create a sense of destination. Because if the last year has taught us anything, it's that creating a home where you truly love to spend time with your favorite people is more than worth the effort. 
But if your outdoor area lacks the comfort and amenities to make it a great place to gather with loved ones, you might be thinking of a backyard remodel. Perhaps you're considering a complete overhaul or maybe just a minor facelift. No matter the scale of your project, you'll want to think about the way you plan to creatively transform your outdoor space into the perfect family room. And likely you'll find the possibilities are endless. 
Summer and the Outdoor Livin's Easy
As the go-to area for everything from movie nights to playdates and all the bonding times in-between, the family room is central to your home. Likewise, an outdoor family room serves as a space for play, meals, and making memories.
 Creature comforts like sofas, lamps, or rugs found within the home can make for a terrific outdoor space. Outdoor spaces can be as chic and comfortable as your living room, becoming natural extensions of the home. But you can't just plop a settee and coffee table randomly in the yard and proclaim it your new "outdoor room." 
To create one that's comfortable, cohesive, functional, and anything but cookie-cutter, consider starting with a custom AZEK pergola to define your outdoor space. As outdoor activity increases so does the need for privacy, shade, and shelter from the elements. Vinyl pergolas can also be augmented with lattice panels to creates the kind of privacy you'll want in your outdoor space. 
Next, invest in an outdoor sectional that is as comfy as your indoor sofa and add a stylish rug that can withstand the elements. Swap your family's Netflix time for making s'mores around the fire pit. And voila, you have everything you're creating and outdoor oasis so cozy, it will make your living room jealous.
Outdoor Spaces for All Ages
Growing up, was your treehouse or fort your favorite hangout? Your kids deserve that same sense of outdoor wonder and fun. Having a designated outdoor area that's just for your children is important for fostering creativity, imagination, and independent play. Get your kids to put their smartphones and tablets down and play outside in a retreat of their own. Consider a custom AZEK pergola outfitted with a lattice fence for creating perfect outdoor enclaves for reading, playing board games, or watching outdoor movies. 
Really, what could be more magical than watching your favorite movie under the stars? When the sun sets, there's nothing is better than an outdoor flick on a huge projector screen. Once you've installed your AZEK pergola, string up some fairy lights, set up your outdoor projector, and grab the popcorn. It's showtime.
Al Fresco Dining
Whether your outdoor family space is a city balcony or a sprawling ranch with enviable acreage, dining outdoors in a much-anticipated ritual during the warmer months of the year. Dining al fresco with your family offers the chance to slow down and relax, together. Not to mention, food and drinks just taste better when enjoyed outside, period. 
Motivated by the mouthwatering aromas and seasonings that only come with cooking on outdoor barbecues and grills, cooking (and dining) al fresco has evolved into a favorite at-home family activity. Custom vinyl pergolas easily lend themselves to creating outdoor family dining spaces. 
Easily one of the most visually appealing ways to enhance your family's outdoor space is with a custom AZEK pergola, offering shelter from inclement weather and enhancing your backyard space. For an instant cozy family dining area outdoors, you can demarcate the chosen space with planters or a lattice fence panel. And add built-in lighting to your already-gorgeous AZEK pergola to create ambience (and to light up evening meals and activities).
Grow Together
Sure, watching movies and playing games with your children is fun, but this summer, move your bonding time outdoors. Head to the backyard and spend summer days together outside in the garden this season.
Consider the design of your garden, and perhaps, let your children weigh in. Limited space? A lattice fence is ideal for vertical container gardening. Got some serious square footage? Design a dreamy cottage garden outfitted with arbors with gates for a space straight out of the storybooks. 
Walpole offers limitless possibilities for creating truly stunning garden enclosures. Appointed with an expansive line of arbors with gates and custom fencing you can add some serious aesthetic appeal to your family's garden.
Create the Perfect Family Room with Walpole
Walpole Outdoors are the leading designers, fabricators, and installers of the highest quality AZEK pergolas and other premium products. They offer a wide array of classical, contemporary, and fully customized design options in fencing, vinyl pergolas and arbors with gates. Walpole specializes in creating amazing outdoor spaces for the most discerning homeowners. Our professional design team is available now to schedule a free measurement and consultation of your property, so you can start planning right now for your outdoor family room and enjoy the wonderful year you've been waiting for.