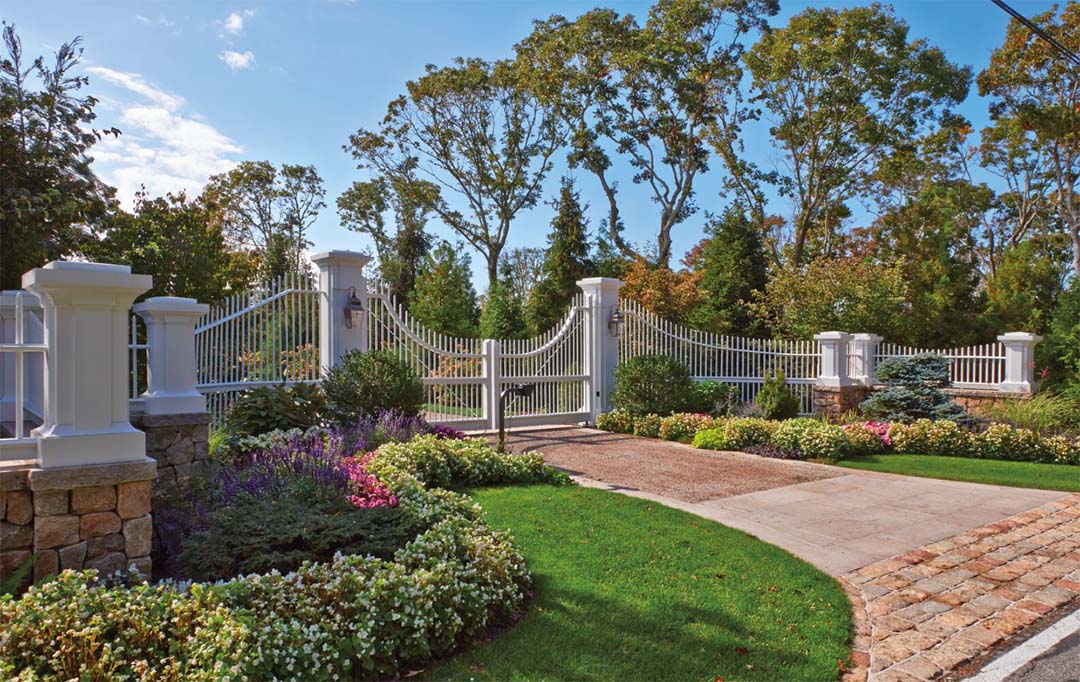 Choosing The Right Driveway Gate
---
If you want to make a change to the look of your property, updating or adding a driveway gate is the perfect way to do it. Driveway gates are highly visible and highly functional, making them an essential part of your home's exterior.
Are you looking for something grand and expansive? Or you may want something functional and simple. No matter what you are looking for, your perfect driveway gate is out there.
Before you decide there are many things to consider when choosing the right gate for your home. First, you have to consider how it will work with your existing fencing, landscaping, the architectural style of your home, whether or not you want it to provide privacy, and how you want it to function.
Think Style
Each home and homeowner has their distinct style. When choosing a driveway gate, you want to find something that aligns with your home's style. A driveway gate is a highly visible structure and will be seen by people passing by and visiting your home. 
If you are looking for something classic and subtle, you can choose to match your gate to your existing fencing. This Westchester Double Driveway Gate fits perfectly with the surrounding fencing giving it a sleek and simple look.
If you want something more dramatic, consider a gate with more shape and height, like this sweeping Brentwood Spindle Gate. While this gate matches the fencing, its height and columns give it a more regal feel.
But your gate doesn't always have to match your surrounding fencing – you may not even have any surrounding fencing! This Convex Entrance Gate is an excellent example of a standalone gate that can be beautiful and functional on its own.
If you are looking for something more contemporary you have many styles to choose from. This Contemporary AZEK Driveway Gate is sleek, modern, and grand – the perfect gate for a distinctly modern home.
Beyond style, choosing what material you think looks best in front of your property is essential. Choosing between metal, low-maintenance cellular PVC, and wood is important when deciding what style you like best.
Think Security
Another factor to consider is what function you want your gate to serve. Is it primarily for aesthetic purposes? Is it providing your property with security or privacy? For instance, if you are looking for privacy, many picket or spindle options may not be appropriate because they have plenty of visibility.
Walpole has worked with numerous property owners to create secure and beautiful driveway gates. Gates can be designed and installed with a number of locking configurations, including automated gates with passcode entry.
Think Size
The final factor you need to consider is the size of your new gate. The size will first depend on the size of your driveway itself. You may not need a vast gate if you have a single-lane driveway. On the other hand, if you have a wide driveway, you may need something custom-built to fit those measurements.
Aside from width, you also need to consider height – how high does your gate need to be to provide the desired look and security? Your entryway should look like it belongs on your property!
The Walpole Difference
For 90 years, Walpole Outdoors has been designing and constructing beautiful outdoor structures that have enhanced and defined countless outdoor spaces. As a result, you can see beautiful Walpole pergolas at country clubs, colleges, shopping centers, corporate offices, high schools, universities, and countless private residences across the country.
Walpole's turnkey driveway gate solutions are managed by our team of professionals from start to finish. Our design consultants meet with you on-site to discuss your style preferences, identify operator system requirements, and review existing site conditions. As a result, we offer a wide assortment of standard driveway gate options, always with the opportunity for a more customized design.