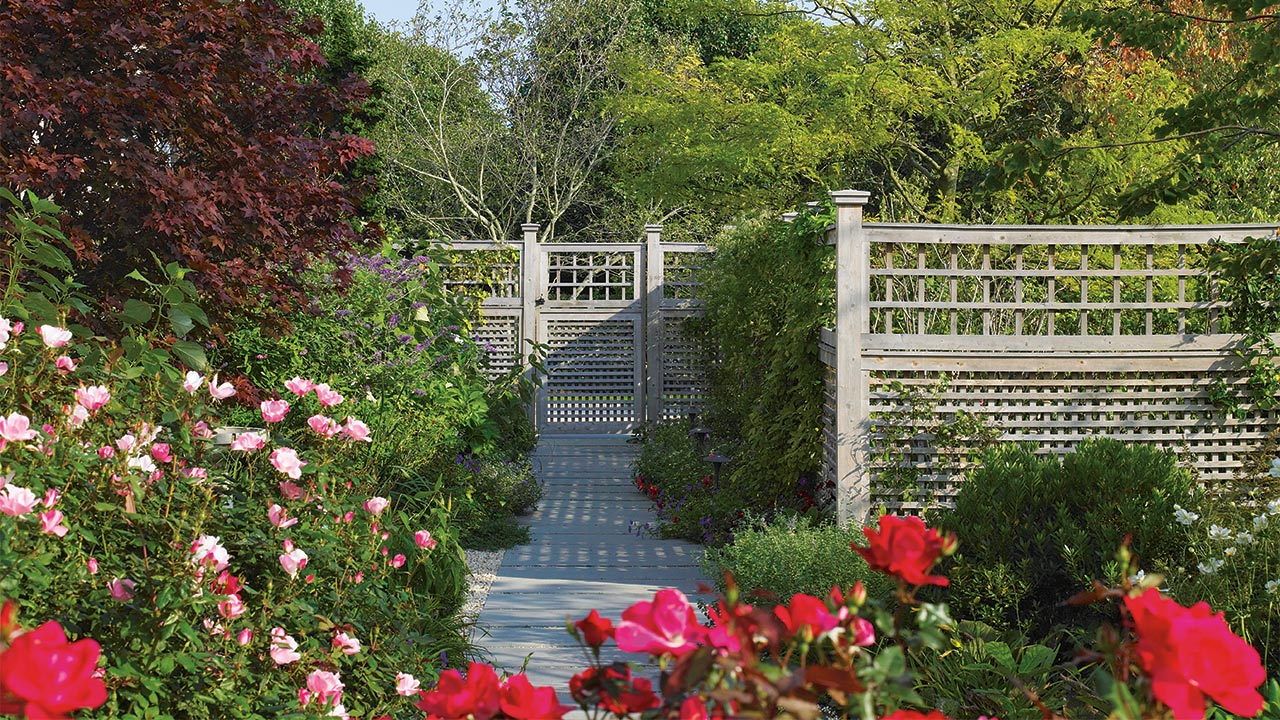 Board Fences or Lattice Fencing: Which Suits Your Style?
---
Perhaps you've finally created the outdoor oasis you've always dreamed of: the perfect pool, a swoonworthy outdoor kitchen, and spectacular gardens. But the close proximity to your neighbors is keeping you from actually enjoying said oasis. Well, with the right fence, you can create your own secluded hideaway, right in your own backyard. Whether you want to enhance your garden, define your perimeter, or feel like you're a world away from the neighbors, a good fence can be an invaluable feature in your outdoor home.
Generally, fences fall into three categories: functional, privacy, and decorative. Typically used to define a property's perimeter, keep children and pets safe inside, or keep out unwelcome visitors, the right fence can enhance your home's curb appeal in a big way. But more than merely giving your property an attractive, functional perimeter, the creative use of board or lattice fencing (with details like designer hues, fence caps, or coordinated custom lantern posts or mailbox posts) helps to transform your property into something truly remarkable. With a myriad of materials to choose from, including wood, stone, brick or vinyl—there's surely a fence style that's right for you.
Finding Your Fence
Whether it's establishing safe boundaries, enhancing your garden enclosure, or transporting you to a world away, a fence can check most of the requirements on your priority list. Increasing the footprint of your home, custom fences can be installed alongside a pool, patio or playscape to create intentional areas for entertainment, relaxation, and play.
From cottage to contemporary, your space, material and aesthetic all play an integral role of the fence design end game. Whether you're drawn to swaths of blooms climbing along a tidy white fence or prefer a handsome cedar and stone perimeter, choosing the right fence can be quite personal.
Depending on your tastes and your goals for your outdoor home, you may find a lattice or board fence to be your best option.
Love for Lattice Fencing
Maybe you are seeking privacy within your property but find most fences are too cookie-cutter for your landscape? Or perhaps you are looking for a way to enclose your yard without the restrictive feel of an opaque barrier? You want to define your property's full perimeter, create a semi-private patio screen, and enclose your garden in style? Well, there's a fence for that.
With lattice fences you don't have to choose between functionality and aesthetics. As a best-of-both-worlds option, there's plenty to love about lattice. Offering more privacy than traditional picket fencing but a little less confinement than a privacy board fence, many homeowners find lattice to be the ideal middle ground.
Lattice fencing is a well-loved material for its striking combination of form and function. Commonly added as a decorative landscape accent feature or as support for cascading blooms and trailing vines, lattice fencing brings plenty of visual interest possibilities to the table. Perennially popular, lattice fences can be a welcome alternative to stockade, chain-link, or post-and-rail fencing, defining boundaries, providing privacy, and concealing unsightly views (like a garbage disposal unit, generator, or air conditioning system.)
Tightly woven slats of lattice fences allow sunlight to filter through, creating an open atmosphere and airy feel. From crisscross to square hatch, spindle to open weave design lattice fencing offers an easy breezy look that is both elegant and functional. Here, a Lattice-over-Lattice Fence and Double Custom Vinyl Gate offers delightful views of the sprawling lawns while doubling as a safe pool enclosure. Walpole's custom fencing can be tailored to any aesthetic – with more than 40 different fencing styles to choose from.
Privacy, Please
Should you decide that privacy is top priority, you might consider installing board fences. Marrying beauty and function, board fences can delineate different types of spaces throughout your property to best serve your family's needs while adding a layer of privacy to your backyard (or rooftop) space. By enclosing your outdoor spaces with custom board fences, you not only protect your investment of time, energy, and effort you have put into curating your space; you transform your space into a secluded hideaway. 
Solid, durable, and built to last, Walpole board fences are handcrafted in low maintenance AZEK. These fences won't rot, buckle, or sag, and the board-on-board layout guarantees maximum privacy. Available in a variety of styles and in materials with a range of decorative options like lattice panel tops, coordinating mailbox posts or lantern posts, board fences create a stylish and distinctive perimeter around your picturesque space while affording privacy and safety. (We recommend adding on an additional layer of interest to a traditional board fence by topping it with a contrasting panel.) With more than 100 colors of factory-applied Sherwin-Williams VinylSafe paint to choose from, make a statement with bold hues like pewter or cobalt that will pair perfectly alongside a lush green lawn or fall foliage. (TIP: string up some decorative globe lights for an instant twilight entertaining zone.)
Create An Exceptional Outdoor Space with Walpole
Walpole's extensive line premium outdoor products includes fences, lantern posts and mailbox posts that are long-lasting and distinctive, combining impeccable style with uncompromising quality. Our team of designers are available now to schedule a free measurement and design consultation of your property, so you can get your outdoor project underway!