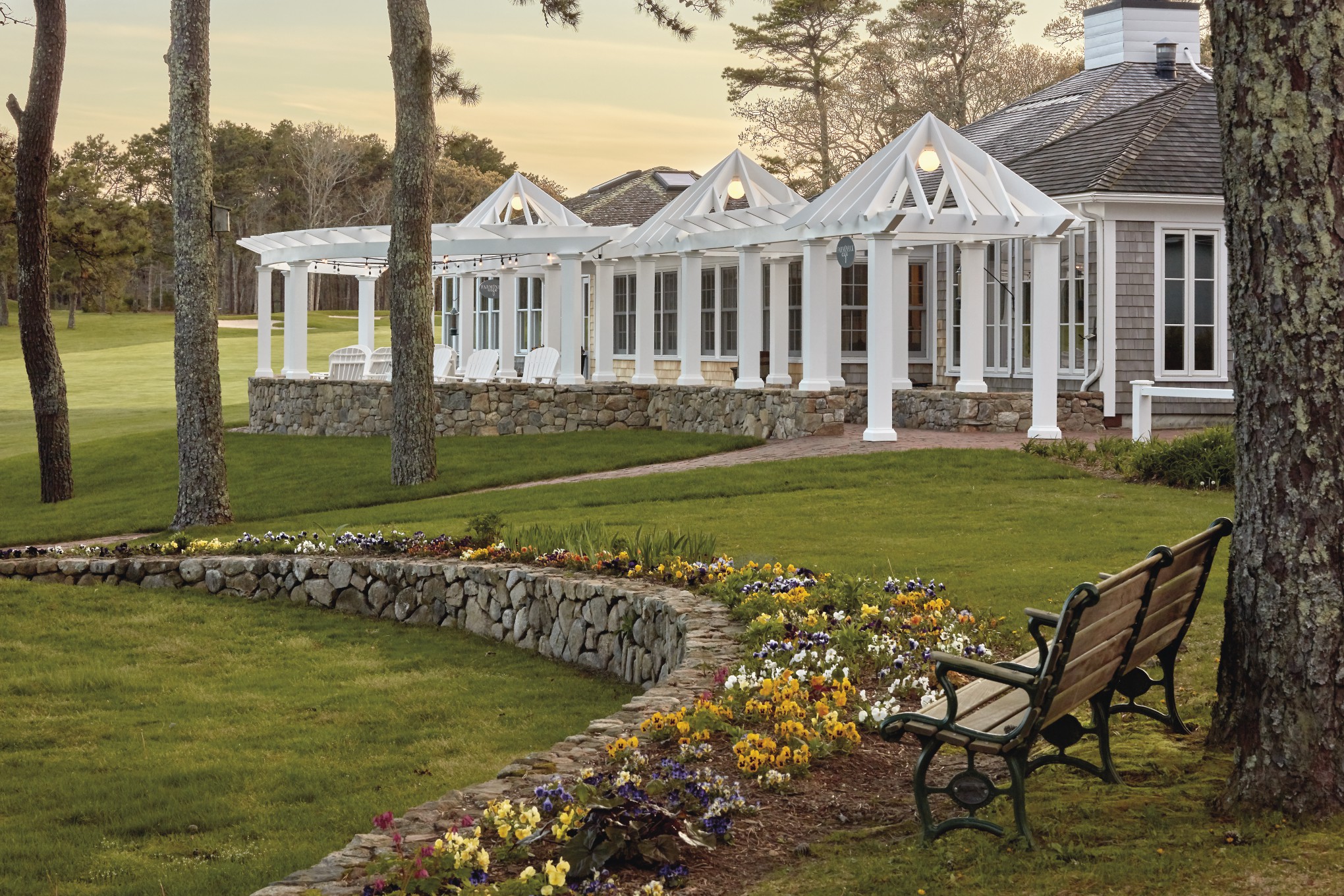 Shaping the Outdoor Spaces of Your Country Club with Large Structures
---
It should go without saying that your country club is beautiful, with beautiful grounds that feel open and airy. But leaving your outdoor areas too open and unstructured can yield a feeling of emptiness or exposure, rather than the elegant, structured environment that helps ensure a great member experience. To define and enhance the outdoor environment of your club, you should create or update areas that serve as focal points for activity, relaxation, and purposeful flow. Premium quality, stylish structures like custom picket fencing, a vinyl arbor, walk gates, or an entryway pergola can impress visitors and existing members alike, increasing curb appeal and raising both the practical enjoyment and the perceived value of membership.
Being Selective: Not all Structures are Equal
If you are considering upgrading your country club's outdoor space, you need to consider the total effect of the project. Of course, you'll require top-quality products that are beautifully designed. But you need to ensure that the spaces you create enhance the way members enter, move about, and spend time at your club. Working with your design consultant, you have the opportunity to create a great impression with both new and existing members every time they encounter the structures and spaces you create.
Pergolas: Effortlessly Grand Entryways
One of easiest and most distinctive ways to create an impressive entryway is with a custom designed pergola. Consisting of beams, rafters, and posts, pergolas offer a solution to outdoor spaces that is both functional and aesthetically pleasing, effectively creating a "room" in the open air.
Entryway pergolas serve as an outdoor grand front hall or foyer, turning walkway or patio space into something truly magnificent, like this beautiful creation by Walpole Outdoors at the Farm Neck Golf Club on Martha's Vineyard. As the very first thing your clientele will notice, framing your entry with an elegant pergola is like rolling out the red carpet for your next big event. Why? Entrances are everything – they set the tone for every visit, building your guests' anticipation for what's to come. Whether painted in a classic white or coated in a designer hue, the addition of an entryway pergola at your country club is a fantastic way to enhance your club's curb appeal, especially for prospective members scouting you out. And let's face it – you don't get a second chance to make a good first impression.
Classic for Good Reason: Picket Fencing and gates
Charming, iconic, and timeless –picket fences are no doubt a slice of classic Americana. Hearkening back to the days of homesteading, the white picket fence remains the epitome of classic, effortless beauty and charm. Perfect for defining spaces, whether dining, gathering or pool areas, without obstructing those idyllic views, the custom picket fencing and the many styles of entry and walk gates that allow guests through it (often enhanced with a vinyl arbor) can be tailored to any design, style, or material.
No surprise that picket fencing is frequently used in country club architecture and landscape design. While a traditional picket fence will never go out of style, there are many ways to put a distinctive design touch on your club's perimeter and the way you define areas within it using custom picket fencing. This Yorktown picket fence provides handsome design and clean structure, and a Picket fences can also be integrated with stone or brick walls for a particularly imposing-but-stylish barrier or clubhouse extension, such as this use of Walpole's Brentwood Spindle Picket fencing.
You can blend classic with contemporary, simple with sophisticated –Walpole's wide selection of custom picket fencing crafted from AZEK solid cellular PVC (an environmentally friendly synthetic material) are equally low maintenance, durable, and completely customizable.
Arbors Above, Beauty Below
Arbors, with or without walk gates, create lovely passages across fenced areas in the hedge and garden areas of your club. Consider the addition of an arbor or two when thinking about ways easily enhance the charm of a stroll around your grounds. Configured into the framework of any fence design, an AZEK solid cellular vinyl arbor brings vertical interest, makes a grand entrance, enhances a walkway, and creates shady retreats throughout your property. From classic to contemporary, Walpole offers a wide range of beautiful, low-maintenance arbors to complement its variety of custom picket fencing. Engineered to last longer than other wood alternatives while offering the most natural hardwood look, a premium Walpole vinyl arbor offers unrivaled high-performance and beauty your members will appreciate for generations to come.
Is your country club ready for an upgrade?
Choosing the right partner to improve your club's outdoor spaces while remaining true to your style may seem challenging. But with Walpole Outdoors, you can expect stunning outdoor structures and spaces that will stand the test of time and delight even your most jaded members. If you're ready to enhance your club's space, we can develop a comprehensive plan and product selection that matches your needs and exceeds your expectations, from consultation to concept to completion. Discover the difference uncompromising craftsmanship, unmistakable quality, and impeccable style can make for your club environment. Discover Walpole Outdoors today.