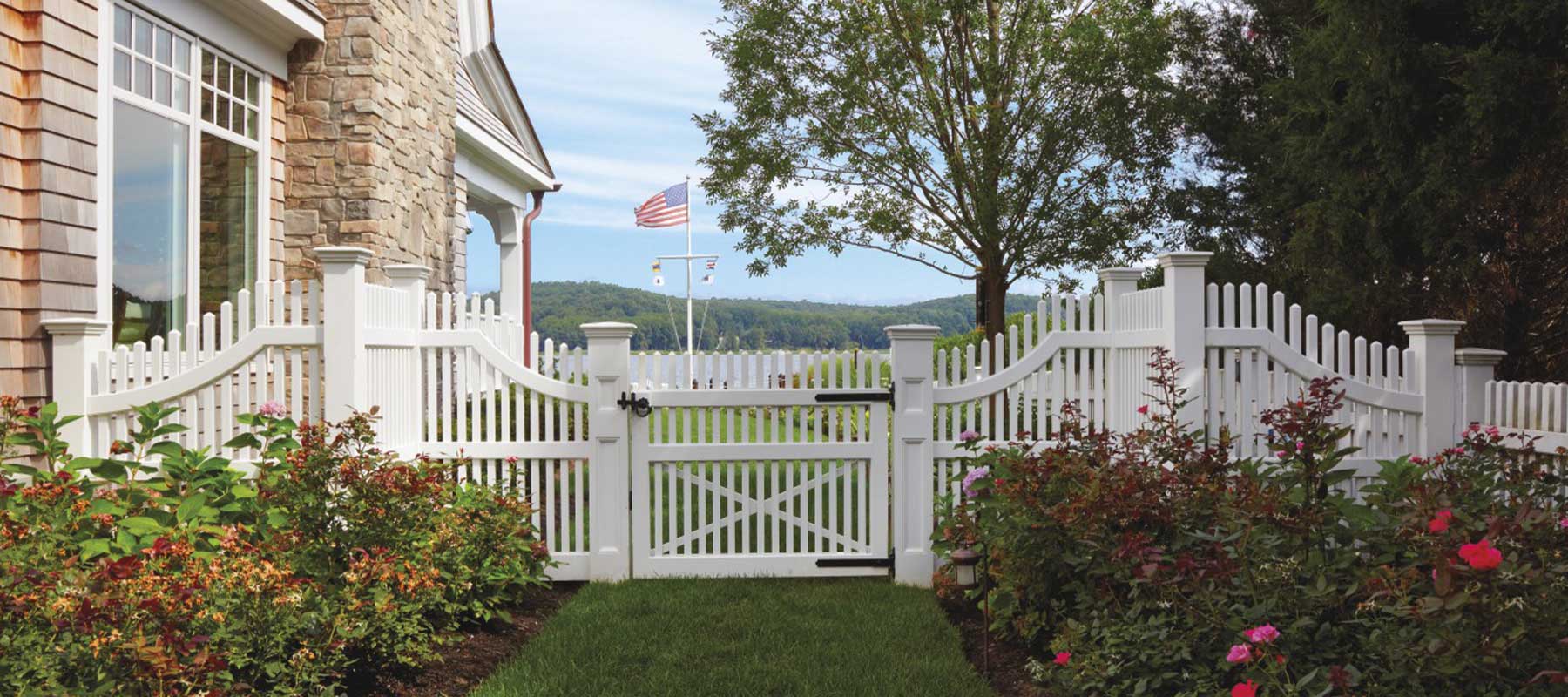 How the Right Fence Can Turn a Yard into the Perfect Living Space
---
Perhaps you've created the yard you've always dreamed of complete with a custom outdoor kitchen, a perfect pool and gorgeous gardens. But close proximity to your neighbors, traffic noise, or an unsightly view, may keep you from enjoying the backyard retreat you've created and cared for. The addition of an AZEK or custom wood fence can work as a buffer to create a more secluded outdoor retreat. Whether you want to establish safe borders, enhance your garden, or feel like you're a world away, a fence can be invaluable in your outdoor space. Extending the footprint of your home, custom AZEK fences can be installed alongside a patio, deck, or pool to create outdoor areas for entertainment, play, and relaxation. Offering the perfect blend of beauty and function, AZEK fences can create different types of spaces throughout your property that best serve your family's needs while adding a layer of privacy in your backyard
Around a pool area, a fence plays a pivotal role. Whether an AZEK or a custom wood fence, creating a stylish and distinctive perimeter is like the cherry on top of an already picturesque outdoor space. Not to mention, a thoughtfully placed, expertly crafted fence affords seemingly effortless privacy and safety to your space.
If your kids practice sports or just like to run wild outside, it's easy and important to create a place for them to do so. A solid AZEK or custom wood fence can easily create a perimeter for a designated ball play space in your backyard.
Or perhaps, you're planning to designate a nook in where quiet and reflection, not physical activity, takes center stage. For a secluded setting, consider lattice for a natural privacy barrier. Allow climbing hydrangeas or other perennial vines to grow up the lattice for a tranquil and inspiring outdoor room.
Less is More with Lattice
By enclosing your outdoor spaces with custom fencing, you not only protect your investment of time, energy and effort you have put into curating your space; you set the stylistic tone. Lattice fences lend themselves as easy dividers between outdoor spaces throughout your property, creating seating areas, garden enclosures or skirting a pool area, helping to blur the line between inside and out. And the ways you can use lattices to express your styles are endless.
Here, a lattice fence is outfitted with wire insets offering plenty of cottage charm, serving as the quintessential backdrop for climbing plants while maintaining its intended function and purpose. Stylish lattice fences provide a feeling of privacy, encourage climbing plants, and when strategically located, can deter deer from grazing on your property.
Add a simple, elegant architectural element to a patio or deck and tie an entire outdoor "room" together with AZEK solid cellular PVC customized lattice fencing (or even simple lattice kits). This Lattice-over-Lattice Fence and Double Custom Vinyl Gate offers delightful views of the sweeping lawns while doubling as a safe pool enclosure. From crafting a private oasis in a bustling metropolis to replicating a historical Victorian Lattice Fence, Walpole's lattice fences can be tailored to any aesthetic – with more than 40 different fencing styles to choose from. 
Open or Closed, Gates Always Say Welcome
Rolling out the welcome mat in a way no ordinary pathway can, a custom vinyl gate offers the chance to create that wow-factor upon first glance. Guests encounter the entrance to your outdoor space first, so make the kind of first impression that sparks the curiosity and piques interest about what's beyond the gate. Draped with colorful clematis or fragrant climbing roses, the right gate can create a dramatic focal point of a garden, patio or terrace. With the weight, look and feel of real wood, a custom vinyl gate from Walpole will mark the entry of your outdoor space in style.
Integrate custom vinyl gates throughout your outdoor space to serve as transitions between one outdoor room with the next. Enclose a backyard, connect two garden rooms, or section off a side yard space for play. Make your outdoor space unforgettable by adding a custom vinyl gate, customized to almost any height and width, in an extensive range of styles. Here, Walpole incorporated an impressive radius Chestnut Hill fence and walk gates to enclose a defined area of greenery. 
From the classic to the contemporary, Walpole's extensive line of fences and gates is long-lasting and distinctive. Crafted from wood or solid cellular PVC (an environmentally friendly synthetic material), these fences and gates are completely customizable, built to last, and offer little-to-no maintenance. Ranging from monochromatic to bold-blended hues, Walpole's line of AZEK fences, gates and other products come signed, sealed, and delivered in one of more than 100 Sherwin-Williams VinylSafe paint colors. From a vivid Verde Green to a dramatic custom black, Walpole can tailor custom gates, lattice fences, or any other exterior projects with its expansive palate of color choices, guaranteed to last for 25 years.
Walpole Outdoors specializes in creating amazing outdoor spaces for the most discerning homeowners. Walpole designers are available now to schedule a free measurement and design consultation of your property, so you can get your outdoor project underway!