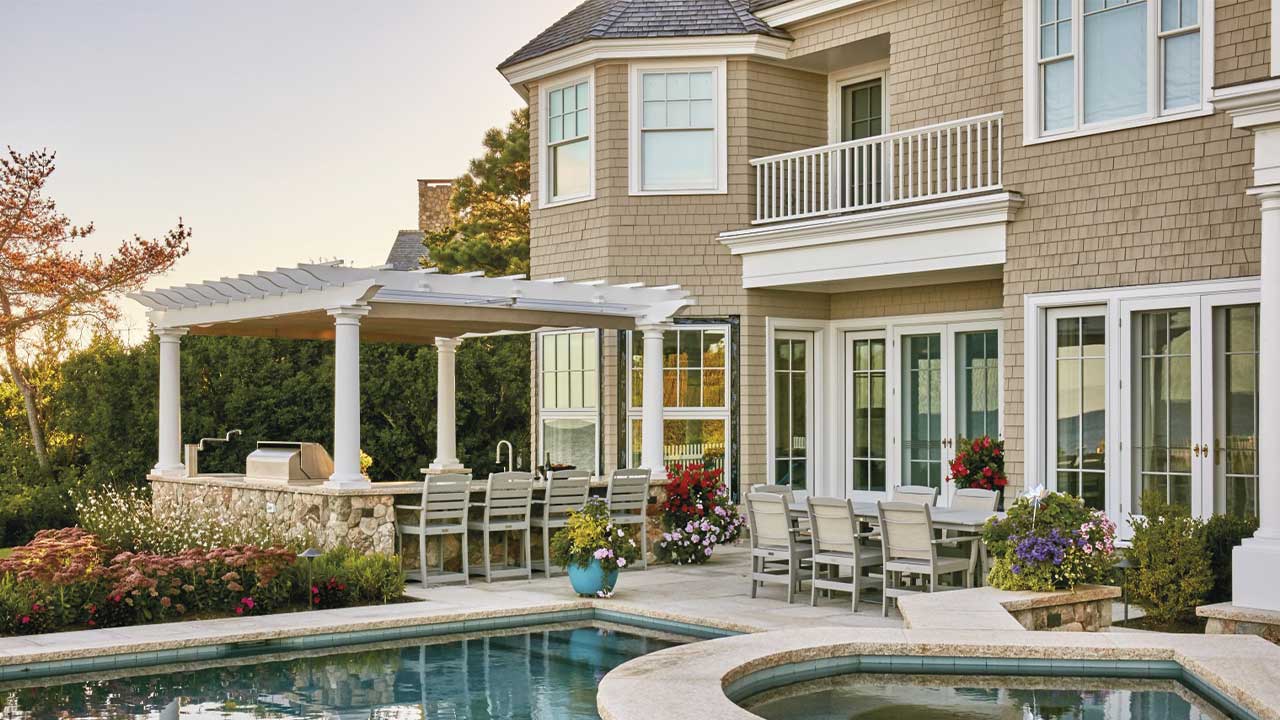 AZEK and Your Outdoor Home: Pergolas are Just the Beginning
---
Here's the thing about keeping your home's exterior looking amazing: Touch ups, from repainting that vintage white picket fence to brushing the mildew spots off your wisteria-wrapped pergola, become a routine component of your seasonal property maintenance. But you can break that cycle when your outdoor spaces and structures are constructed of AZEK, which offers a whole range of building solutions from fences to gates to pergolas. Plus, you can completely customize your AZEK project in a range of styles to best suit your own—and all are as durable as they are beautiful.
What is AZEK?
It's a high-quality synthetic wood alternative that offers many aesthetic and functional benefits. This innovative material can actually spare you time, energy, and resources. Environmentally friendly and crafted from PVC (Polyvinyl Chloride), this low-maintenance material resists warping, moisture, and sun damage, retaining its sturdiness, carpenter-finish, and color for decades.
This is NOT the brittle hollow vinyl or sagging synthetic sawdust-boards you may remember from years past. AZEK is truly different, and it's designed to look just like natural or painted wood, and last for decades without cracking, fading, or rotting. If you're considering replacing your fencing or gates, or perhaps you're starting from scratch and thinking about a new custom pergola to enhance your outdoor dining space, consider AZEK for a high-performance, low-maintenance option.
The AZEK Revolution
The truth is, not all materials (or even all composite materials) are created equal. AZEK stands apart from other synthetic options thanks to its unique use of advanced materials.
When companies first began making composite materials nearly three decades ago using a combination of wood fibers and recycled plastic, their products began having issues with mold because the product was not impervious to water and other elements. ENTER: AZEK. Made with solid PVC, AZEK developed a capped-composite product that was impervious to staining, scratching, fading and water damage and was also low maintenance. But could it offer the same charm and character as natural wood?
In short, yes.
Although pressure-treated wood may initially seem like the smart-money option, you can end up paying for it over time. For instance, according to AZEK's website, the approximate cost of upkeep for a wooden deck is more than $20,000 over 20 years. And it's not hard to see why. Wood absorbs moisture. Over time, the absorption of water will weaken the integrity of the wood. And premium hardwoods don't entirely solve this: even with a high-quality cedar, wood fences, gates, and other structures can rot, twist and warp over time. But AZEK, with the beauty and feel of real wood, coupled with high durability and low maintenance, has become the material of choice for fine outdoor homes and businesses.
Scientifically engineered to repel mold, resist weathering, and combat warping caused by environmental stressors at a level that can't be beaten, AZEK is the industry-leader in the highly attractive, fast-growing outdoor living market. Using weather-resistant technology, AZEK is designed to be resistant to termites, scratching and dents. With its Alloy Armour shell containing UV protection, your AZEK fencing won't fade under the harsh sun or become damaged with use. But, AZEK can be milled, carved and sanded, just like hardwood, appealing to any style from contemporary to coastal. And because the core contains no wood fibers, it won't absorb moisture or be susceptible to rot. You can rest easy knowing that AZEK can take on just about anything. In fact, AZEK won Houzz's 2020 Best of Design as well as Dwell's Best Outdoor Products of 2020.
But honestly, the number one reason people continue to choose AZEK by far is for its low maintenance. (Let's be real, wouldn't you rather skip the annual staining or painting?) The overwhelming trend in the outdoor market favors little-to-no maintenance materials. While "no maintenance" may be a misnomer, low maintenance is a reality when it comes to AZEK. A little soap and water every few months will keep your AZEK products looking brand new, year after year, for decades.
Pergolas, fencing, gates—oh my!
Twenty years ago, choosing a composite material meant you were signing up for a "cookie-cutter" look with very little room for customization. Times, however, have changed. Ranging from monochromatic to color-blended hues, Walpole's AZEK fencing, AZEK pergolas or other products come signed, sealed, and delivered in one of more than 100 Sherwin-Williams VinylSafe paint colors. From a classic Hale navy blue to a warm terracotta, AZEK gates, lamp posts, or fences can be fully customized to your taste with an expansive palate of color choices, guaranteed to last for 25 years.
The buck doesn't stop with color either – each of Walpole's trademark lines of AZEK pergolas, fencing and gates offer nuanced wood grain patterns and even wire-brushed finishes. Seamlessly blend your AZEK fencing or pergola to the style of your home and its existing wood structures for a distinctive outdoor space perfect for dining, entertaining and relaxing in the comfort of your own backyard.
For instance, if you're drawn to the look and feel of historic cedar, Walpole Outdoors can craft pristine new AZEK pergolas in a style that replicates historic designs and milling styles to complete your property and complement your style. Honoring and sustaining creative beauty, Walpole and AZEK have partnered together on landmark restoration projects, creating the perfect balance of old-fashioned charm and modern technology with AZEK gates, AZEK lamp posts, and other specially crafted products.
A Brilliant Welcome
Functional and distinctive, Walpole AZEK lamp posts are more than just a pole in the ground. They are a handsome, elegantly milled perch for a custom lantern, offering some serious curb appeal blending style and practicality. Handcrafted to enhance your entry, path or any other part of your outdoor home, the quality and impeccable style of Walpole Outdoors AZEK lamp posts are unrivaled. Perfectly positioned at home's entryway, this majestic Belmont Pillar post makes a truly elegant statement, and first impression. Walpole's line of stylish posts highlight the beauty of your garden and your grounds while adding an extra layer of security and safety at night, all with the look and feel of beautiful natural wood.
The High-Performance, Low-Maintenance Solution
For nearly a decade, Walpole Outdoors has been using AZEK, expanding the use of this versatile material to include nearly all of our manufactured items, from AZEK gates to lamp posts due to its durability and long-lasting beauty. Walpole Outdoors specializes in creating amazing outdoor spaces for the most discerning homeowners with fully customized AZEK products and projects. Call us to schedule a free measurement and design consultation of your property, so we can start planning right now for your next project.