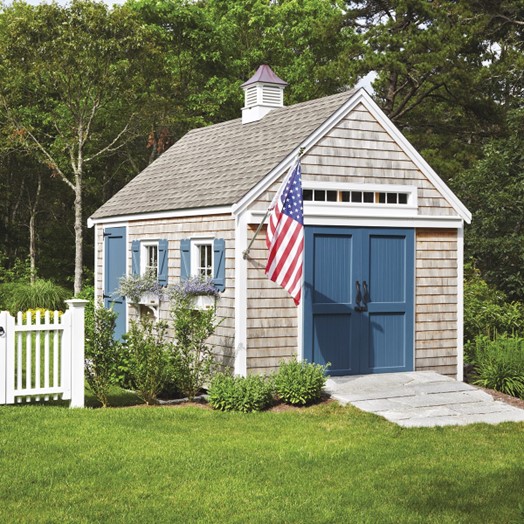 What Shed Is Right For Your Home?
---
If you are a homeowner who takes pride in the exterior of your home you probably need space to store equipment, tools and gardening materials. But you don't have to settle for a shabby little wooden box you can pick up from any hardware store! Invest in the perfect shed for your home and only add to the beauty of your outdoor space.
One of the most practical structures you could ever invest in for your home is a quality storage shed. Sheds are made to store anything you need, adding a little extra space outside of the interior home space. What makes a shed or small building a great investment is that you can get something that compliments and adds to the exterior beauty of your home. Don't settle for the standard shed that may or may not have the square footage you need – get something custom that fits your requirements and matches your home.
So how do you figure out what kind of shed you need for your home? Here are a few ways to determine what kind of storage shed is right for you.
What Do You Need To Store?
The first step in finding your perfect shed is knowing what you will be using it for. Storage sheds can be used to house a variety of different things from tools to outdoor equipment to pool supplies. Will you be storing large equipment? If so you will need something with large doorways and a ramp so you can easily get it in and out. 
The Pine Harbor Stony Brook shed has an extra wide doorway with a built-in ramp to make it easier to move larger tools in and out including things like lawn mowers and snow blowers. If you are looking to store mainly gardening supplies you might get a ton of use out of something like this custom Potting Shed. This structure is a standard storage shed that can be used for storage as well as potting.
Take an inventory of what you are looking to store and be generous with what you need. It's always good to have more room than you need than to have too little.
How Much Stuff Do You Have?
Once you determine what you need to store you have to look at what you have on hand. If you have a lot of large tools like lawn mowers then you are going to need a larger shed to house everything properly. Think about how you would arrange your tools and smaller items. Can you use the walls for storage? How about shelving? If you can store vertically you may not need as much square footage.
If you don't have a lot of tools and supplies you can opt for something compact and attractive like the Pine Harbor Lean-To Cuttyhunk. Small sheds like this are perfect if you don't have a ton of outdoor space or don't need to store a lot of things. These can be easily tucked away to leave plenty of outdoor space.
If you have a lot of stuff and need a larger storage shed you can opt for something like the Pine Harbor Cape Codder that measures 14' x 20' with plenty of space for all of your storage needs.
Where Will It Reside?
Another big consideration is where your shed will be located on your property. The location will greatly affect what kind of size and shape your new shed will be. If you are using a storage shed to hold pool supplies you will likely need it to be close to the pool. How much area do you have to build on? 
This custom Pine Harbor Small Building with french doors is perfect for a poolside shed because it has ample storage space, large doors so you can move supplies in and out, and is aesthetically pleasing. This is a storage shed you will not get sick of looking at while you spend your summers by the pool.
Final Thoughts
There is a Pine Harbor shed for every homeowner. Don't just pick up something from the local hardware store and hope that it will suit your needs and match you home. Order a Pine Harbor small building and get everything you need as well as customize its look to perfectly match your home. A storage shed doesn't have to be ugly or industrial looking! It can be another structure that adds beauty and character to the exterior of your home.
Shop for your perfect storage shed online or visit one of Walpole Outdoors' showrooms to learn more about your options.